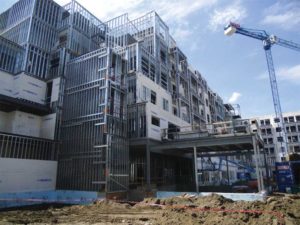 Floor and ceiling assemblies
Researchers tested floor assemblies with cold-formed steel joists spaced 406 mm o.c., and all had resilient channel spacing of 406 mm o.c. or less. These common features of the floors rule out demonstrating the acoustical benefits of changing these parameters, but ensure adequate fire resistance.
Some important takeaways from the research include:
the mass per area of the top floor surface was the primary factor in sound transmission loss;
regular concrete's 16 per cent higher density when compared to gypsum concrete gave significant increase in mass per area and hence higher sound transmission loss;
the subfloor is secondary to sound transmission (while thinner joists and increased spacing between resilient channels provide small improvements, they are overshadowed by mass per area of the
top surface);
doubling layers of 15.9 mm (5/8 in.) fire-resistant gypsum board on a ceiling consistently increased the STC rating by about four points;
filling about 40 per cent of the cavity volume between floor joists increased STC ratings by almost 10 per cent (increasing the fill to almost 100 per cent provided a benefit only a third as large, but in total, filling the cavity with absorbing material was roughly equal to the percentile increase in STC rating from doubling gypsum board layers);
as with walls, the study suggests no significant change in the STC rating due to the type of sound absorbing material used;
in studies between cold-formed steel-framed floors with a joist depth of 254 mm (10 in.) and a nominally identical cold-formed steel-framed floor with a joist depth of 317 mm (12 in.), STC ratings differed by one point at most (cavity depth does not significantly influence sound insulation);
while carpet and laminate flooring perform better than vinyl flooring at higher frequencies, the impact for all three in STC ratings is small because of poor low-frequency performance; and
adding gypsum board to ceilings increases not only the direct sound transmission loss for the floor-to-ceiling assembly, but also the flanking transmission loss for paths including ceiling surfaces.
The ability to use thinner studs when building with steel gives the material an inherent advantage over thicker alternative materials in terms of acoustic performance. These findings, detailed in the NRC research report and the associated tools, will help builders maintain compliance with updated ASTC rating requirements in the national codes while taking advantage of the many benefits of cold-formed steel construction, from sustainability and resiliency to design flexibility and adaptability and changing occupant demands.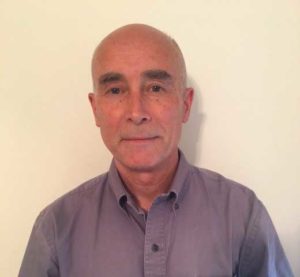 Steven R. Fox, PhD, P.Eng., is the general manager of the Canadian Sheet Steel Building Institute (CSSBI), the national association representing the structural sheet steel building products manufacturers in Canada. In this role, he is responsible for the management of all CSSBI's technical and promotional programs. Fox has more than 35 years of experience in the construction industry, most of which has been with CSSBI. He can be reached at sfox@cssbi.ca.

Control the content you see on ConstructionCanada.net!
Learn More.