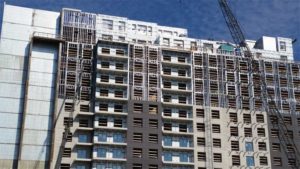 By Steven R. Fox, PhD, P.Eng.
The North American steel industry has completed a research program to develop the necessary tools to meet code requirements for acoustic separation in cold-formed steel frame construction.
For decades, Canada's building codes for residential construction only took sound transmission through separating walls or floors into account when assessing acoustic separation and performance. Known as sound transmission class (STC) ratings, this system led to innumerable situations where inadequate acoustic separation between neighbours was blamed on design or workmanship of those assemblies, often focusing remediation efforts in the wrong place. This problem was especially evident in multifamily housing projects where privacy and sound transmission between units are a major concern for owners and residents.
The National Building Code of Canada (NBC) has evolved to consider additional paths for sound waves, including flanking transmissions through shared ceilings and floors. "Flanking transmissions" simply means sound waves in a room engaging with all of the room's surfaces, including ceilings and floors. When those ceilings and floors are shared with adjacent rooms, the transmitted vibrations are expressed as sound next door regardless of the acoustic separation designed into the shared wall between the two rooms that was the focus of previous NBC editions.
As 2015 NBC is adopted throughout the country, architects and specifiers are designing to this more holistic understanding of sound transmission, referred to as apparent sound transmission class (ASTC) ratings, for their assemblies. This evolution in treatment of sound in residential construction can reduce sound transmission between rooms and units, but it also creates new challenges and requirements for architects and specifiers.
Those challenges are frankly why it has taken so long for building codes to catch up to what has been widely understood for decades. ASTM E336, Standard Test Method for Measurement of Airborne Sound Attenuation between Rooms in Buildings, providing an ASTC rating, was first published in 1997. However, while measuring acoustic performance is one thing, offering architects the tools to reliably predict the performance is another. While some European building codes have used the 2005 International Organization for Standardization (ISO) 15712-1, Building acoustics — Estimation of acoustic performance of buildings from the performance of elements — Part 1: Airborne sound insulation between rooms, these methods have not found broad adoption in North America. This is because they largely provide reliable estimates for buildings constructed from heavy, homogeneous building elements, and not for structures constructed from lightweight-framed elements widely used in mid-rise construction projects in North America. Additionally, from a practical perspective, ISO standards for building acoustics have many differences from the ASTM standards used by the North American construction industry—both in terminology and in specific technical requirements for measurement procedures and ratings.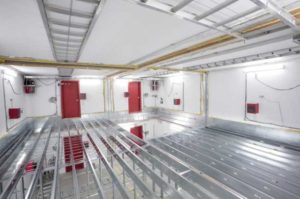 To address these challenges, the National Research Council Canada (NRC) and the Canadian Sheet Steel Building Institute (CSSBI) undertook a project with co-funding support from the Steel Market Development Institute (SMDI) and other steel industry partners to support the transition of construction industry practice to using ASTC rather than existing STC ratings for sound control objectives in NBC. In addition to supporting code compliance, the study report also facilitates design for enhanced levels of sound insulation in applications where desired, and should be generally applicable to construction with cold-formed steel-framed assemblies in both Canada and the United States.
Thanks to this research, architects and designers will be able to use the NRC's soundPATHS prediction tool for the calculation of direct and flanking sound transmission between adjacent rooms. This web application incorporates data from this research to help builders accurately predict ASTC performance. For more complex environments, the NRC report titled "Apparent sound insulation in cold-formed steel-framed buildings" outlines the steps of the process and standard measurement data required for the calculations necessary to translate the normal calculation procedure of ISO 15712-1 to ASTC in compliance with 2015 NBC requirements.
Researchers tested a variety of cold-formed steel wall and floor assemblies at the NRC's wall and floor sound transmission facilities in Ottawa, according to ASTM E90, Standard Test Method for Laboratory Measurement of Airborne Sound Transmission Loss of Building Partitions and Elements. To measure all potential permutations of flanking sound transmissions between various rooms, an eight-room structure (two floors of four rooms each) was constructed in the facility. Researchers tested combinations of loadbearing and non-loadbearing cold-formed steel stud walls, cold-formed steel C-section floor joists, gypsum board, insulation, resilient channels, gypsum-concrete floor toppings, and floorcoverings.
The full report offers detailed discussions of experimental factors and findings. It also provides specific STC test values for almost 50 different common wall assemblies and more than a dozen floor or ceiling assemblies.
In addition to these specific measurements, researchers identified some larger trends and best practices that can inform broader strategies for residential design.

Control the content you see on ConstructionCanada.net!
Learn More.