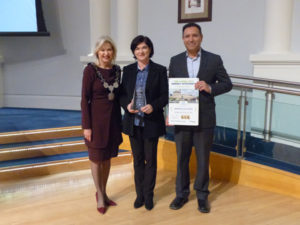 The City of Mississauga has been recognized with multiple energy awards for the energy conservation and innovative efforts taken in 2018. These were provincial awards for programs implemented by the city's energy management team.
"This is a great achievement for our city. Mississauga is proud to be recognized as innovative municipal leaders in energy conservation and green initiatives," said Mayor Bonnie Crombie. "We will continue to work to transform Mississauga into a low-carbon, sustainable, and resilient city."
The city received the following energy awards.
Energy in Action Innovation Award: Best Municipality/University/School/Hospital Customer (1 MW+) within the Greater Toronto and Hamilton for excellence in energy conservation through energy-efficient technology, operational best practices, and staff engagement.
The Living City Energy Efficiency Gold Award for City Hall recognizes leadership in sustaining a high level of energy and environmental performance at City Hall.
Energy Manager Award recognizes the effort and dedication the city has shown to create a more sustainable and energy-efficient workplace.
"City staff has done an excellent job in putting into practice many energy-saving initiatives," said Raj Sheth, director, facilities and property management. "This has created a culture of conservation and energy awareness within the city that have included all levels of staff."
Raj added in 2017, the energy management team launched a 'Race to Reduce' campaign among staff at 19 city facilities. The goal was to find no- or low-cost energy-savings measures. The facilities have saved approximately 3.96 gigawatt hours of electricity and $343,000 in annual costs since then.