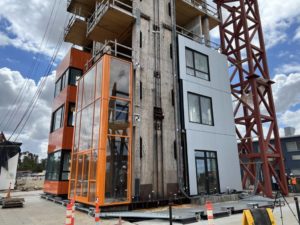 RJC Engineers (RJC), a Canadian structural engineering firm, has announced its participation in the seismic testing of the Natural Hazards Engineering Research Infrastructure (NHERI) TallWood project, currently underway at the University of California, San Diego.
The NHERI TallWood project is a National Science Foundation-funded research effort that aims to investigate the earthquake resilience of mass timber buildings by simulating large earthquakes on a 10-storey mass timber building, the tallest ever tested on a shake table.
The building includes three stories of enclosure systems to assess their interaction with the structure to develop and validate seismic design methodology, while researching the impact on the building enclosure. This first-of-its-kind initiative is expected to transform sustainable building design and reduce the carbon impact of the construction industry in Canada.
RJC will be studying the impact of the earthquake testing—ranging in magnitude from four to eight on the Richter scale—on the integrity of windows, a critical component to the overall energy efficiency and safety of a building. Insights from the testing are particularly crucial in British Columbia, where new code changes require developers to commit to greenhouse gas (GHG) intensity targets, with Canada currently targeting harmonized implementation by the 2030 code cycle.
Following a seismic event, windows, even if unbroken, can sustain damage by causing air to escape through the seals, leading to unseen breaches that are expensive to repair.
Further, Canada's building sector is a significant contributor to the country's GHG emissions—with residential, commercial, and institutional buildings accounting for 13 per cent of the total emissions, and up to 18 per cent when including electricity-related emissions. As of 2021, the building sector was recorded as Canada's third-highest carbon emitting economic sector. Improving energy efficiency in the building sector is therefore essential to reducing Canada's overall carbon footprint.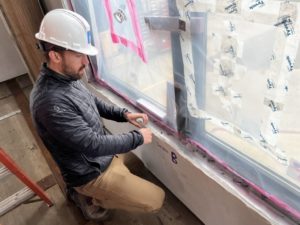 RJC's participation in the NHERI TallWood project test is vital in furthering the understanding of the impact of seismic events on sustainable building design in Canada. The research will inform the possible need to alter the architectural detailing of a building enclosure to assure resilient performance through natural building movements from use and seismic events, and will also help pave the way for a more sustainable and resilient future that meets B.C. Energy Efficiency and Zero Carbon Step Code targets.
'We are thrilled to be involved in testing the windows of the record-breaking NHERI TallWood project," says Dennis Gam, principal, RJC Engineers. "As a company with extensive experience in building structure and envelope, we understand the importance of sustainable building solutions that can help reduce the carbon footprint of the built environment. The opportunity to observe testing of a potential future mass timber archetype and examine its influence on energy performance is a vital step forward in reducing the world's carbon emissions."