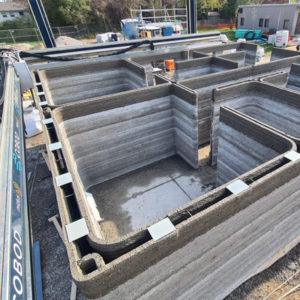 Spray foam insulation was used to achieve an optimal building envelope in a unique affordable, multi-family housing project in Leamington, Ontario, built using 3D printing.
The project began in 2021, when Habitat for Humanity Windsor-Essex partnered with the University of Windsor, Huntsman Building Solutions (HBS), Great Northern Insulation (GNI), and the printing company, nidus3D, to research and develop the first 3D printed homes for residential use in Canada.
This breakthrough project will provide affordable housing to those at risk of homelessness and elevate members of the community through The Bridge Youth Resource Centre. Four units have already been built and certified, with designs focused on accessibility and net-zero emissions. The four-plex housing offers a kitchen and living space, a bathroom with mechanicals, and a bedroom suitable one to two individuals.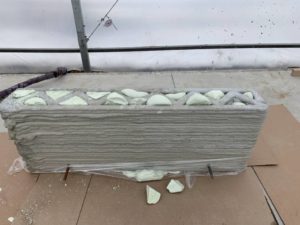 For this ground-breaking project, closed-cell, pour-in-place foam insulation was considered the best choice. It grants architects and engineers freedom to design and build more complex structures due to its ability to virtually fit any space. When incorporated into any building envelope, traditionally constructed or otherwise, it provides several benefits, with its greatest assets for this project being its versatility and multi-functional properties. An insulation product that can serve as an air and vapour barrier, and offers weather-resistance, allows for less products to be required for a construction project. This translates to lowered costs, construction times, as well as lowered environmental impact.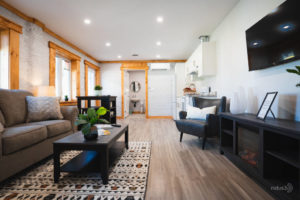 This unique venture was funded by a generous commitment from Canada Mortgage and Housing Corporation's (CMHC's) innovation fund—a fund intended to support ideas/ventures addressing access to affordable housing in Canada.