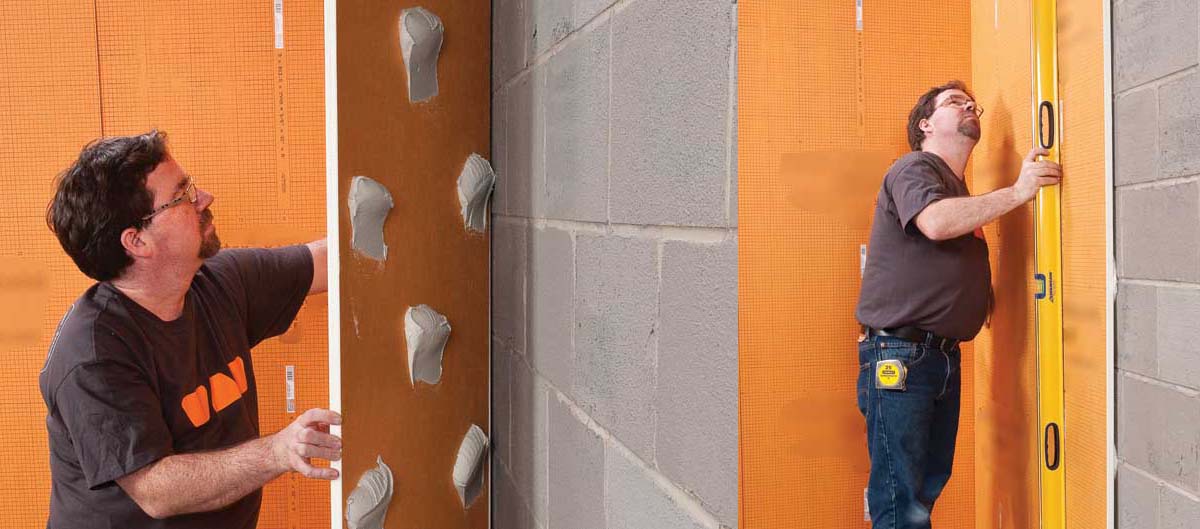 Approximately 10 years ago a new product family—called element boards or building panels—was introduced to North America from Europe. These panels are made out of high-density expanded or extruded polystyrene (EPS or XPS), typically with some type of cementitious or waterproof facer on both sides of the board. With thicknesses ranging from 4.5 mm to 50 mm (0.17 to 2 in.), these boards are extremely light, weighing only about 0.48 to 3.4 kg/m2 (0.1 to 0.7 lb/sf), depending on the panel thickness. They are strong enough to be used as the solid backing and supporting structure for applications, such as walls, benches, shower curbs, and countertops.
Since the boards are made of polystyrene, they have the additional benefits of having R-value of approximately R-4 per 25 mm (1 in.), and they provide some positive sound attenuation. Another big benefit is the ease of use as the boards can be easily handled by one individual. They can be cut into any configuration with a utility knife, or straight cuts can be made with a table-saw.
These board products are low in volatile organic components (VOCs) and have a lifecycle that allows them to last as long as the tile and stone, which is estimated by the Canada Green Building Council (CaGBC) to be a minimum of 50 years. Building panels are not sensitive to moisture or changes in temperature so they are ideal for wet areas and even areas with high temperatures, such as in a steam room.
An education in shower design
One of the most suitable areas for using building panels is in applications where the walls are uneven and have a disparity from one side of the wall to the other. As an example, one of the larger universities in Southern Ontario was in the process of renovating all the communal showers in its dormitories on campus. Dorm renovations must be completed during the summer months when school is out, which makes a quick construction schedule essential.
In this particular case, very costly fines were risked if the late August deadline was not met. The tile contractor awarded this project was provided only a narrow window of time to get the job done, but when renovation on the first building began, a potential disaster was quickly discovered—the walls in the shower were critically uneven. Suddenly, the project was determined to be a lot bigger than originally calculated. The walls had to be made plumb, even, and 100 per cent waterproof before tiles could be installed.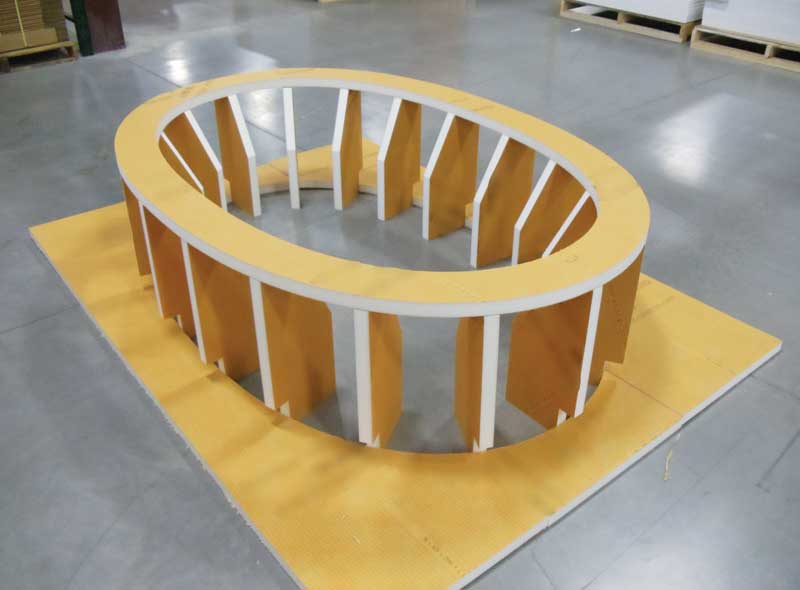 It was estimated it would take two workers a full week to tear out and parge/float the walls in each communal shower. This additional work would mean the deadline would be missed, and the contractor would be handed hefty financial penalties. It was decided to try using a building panel as an alternative method of construction. After a trial installation, it was determined using the building panel reduced the installation time from one week per shower to a single day. The result was a perfectly flat, even, waterproof, and load-bearing installation that could receive the tile within 24 hours after the walls were renovated.
To even out the variations in the wall, the building panels were installed using spot bonding. Mortar was applied in various thicknesses in spots approximately 450 mm (18 in.) apart, allowing the boards to be positioned plumb and even. After allowing the mortar to set overnight, mechanical fasteners were applied through the boards to ensure the panels were permanently secure to the original concrete masonry unit (CMU) walls. The panels completely covered the leftover residue, such as mastic from the original finishing materials, eliminating the painstaking process of having these removed.
Deadlines were met, no fines or penalties were levied, and all parties were satisfied with the end result. The success of this project has since led to other post-secondary residences using building panels in shower renovations with similar quality and time requirements.

Control the content you see on ConstructionCanada.net!
Learn More.