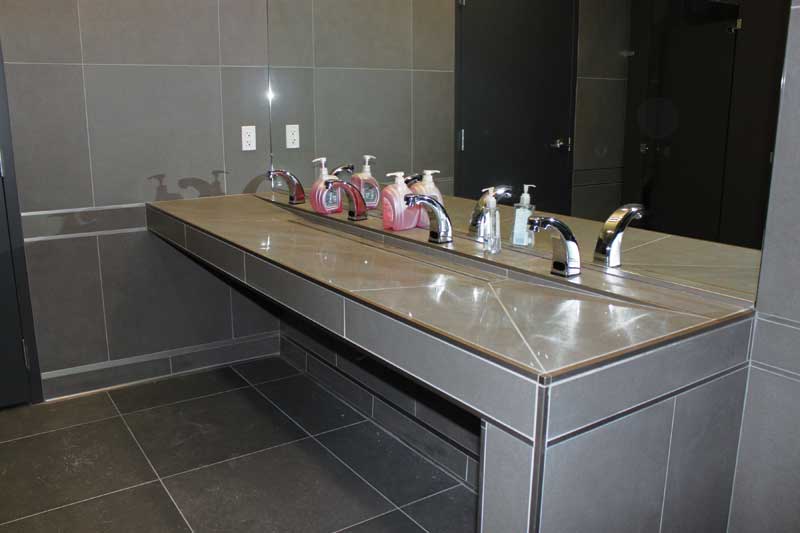 By Dale Kempster, CSC, CTC, TTMAC
For most assemblies receiving a tile installation, the structures and their surfaces are built with variations of wood, cement, and gypsum. Whether the area is exposed to moisture varies from project to project, but the structural elements tend to be the same. Walls, benches, tub surrounds, and counters are constructed with common building materials, such as plywood, drywall, water-resistant gypsum board, cementitious backer units (CBUs), and other similar materials.
Many of the materials used in wet environments are not 100 per cent waterproof, so their properties change when exposed to moisture. Wood products, for example, are susceptible to warping when exposed to moisture over time; they can also be dimensionally unstable due to thermal changes creating expansion and contraction. A CBU is often used in areas requiring waterproofing, but that material is not actually waterproof itself. It is not sensitive to moisture in the same way as wood or drywall, so it remains dimensionally stable, but it will wick water—it is not uncommon for the grout joints on the wall to turn dark and eventually mould can spread 600 to 900 mm (24 to 36 in.) up from the floor.
In the case of stone, especially marble, the water that has wicked into the CBU may discolour the stone. The alternative and common solution is to use a topical waterproofing membrane that is trowel- or sheet-applied and meets American National Standards Institute (ANSI) A118.10, American National Standard Specifications for Load Bearing, Bonded, Waterproof Membranes for Thin-set Ceramic Tile and Dimension Stone Installation, for all wet areas (except continuous commercial steam rooms, which have other specific requirements—see "Designing for Steam Rooms,").
The Tile, Terrazzo, Marble Association of Canada's (TTMAC's) 09 30 00 Tile Installation Manual calls out in detail 319 SR -2012-2014 for shower receptors that CBU needs to be preceded and installed on the metal or wood studs by a vapour retarder typically made of polyethylene with a perm rating of less than 1.0 per ASTM E96, Standard Test Methods for Water Vapour Transmission of Materials and which conforms to Canadian General Standards Board (CAN/CGSB) 51.34-M86, Vapour Barrier, Polyethylene Sheet for Use in Building Construction.
Another challenge in a wet environment is the existence of potential food sources for mould and bacteria. Materials such as drywall and water-resistant gypsum board are excellent sources of food for mould and bacteria when water penetrates into their surface. If these materials are being used, they should always be covered with a waterproofing membrane meeting ANSI A118.10 specifications.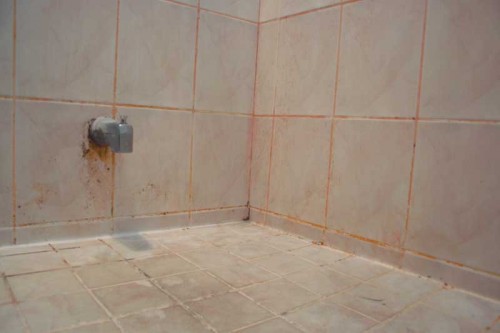 Evolution of products and practices
Construction methods are often the result of past practice. Traditional division of labour on jobsites means the solid backing for walls, tub surrounds, benches, and other structural elements is usually built by the carpenter or framer. These trades may not fully appreciate the surface that is to receive the tile or stone needs to be perfectly plumb, true, and even for the tile contactor to install the tile or stone and achieve a perfectly flat, square, and level installation.
In the past, when the tile contractor was confronted with surfaces that were not perfectly prepped, they were routinely solved by using what was commonly called 'mud,' 'dry-pack,' or 'mortar bed.' Typically, this mud would be made by using four- or five-parts sand to one-part portland cement.
Before the advent of dry-set mortar in the late 1970s, all formally trained and apprenticed tile contractors were trained using mud. It was common practice to build up on the solid backing materials to eliminate any anomalies in the surface. Using mud in this way has fallen out of common practice because it not only takes a lot of time to install, but it also adds a weight of 80 to 105 kg/m2 (18 to 25 lb/sf) for 38 to 50 mm (1 ½ to 2 in.) in thickness. Few tile contractors employ anyone who knows how to work with mud or can do it proficiently. With today's fast-track construction schedules, it is important to be able to deliver a finished room in wet environments that is not only functional and durable, but also esthetically pleasing. Meeting these demands requires new materials and methods.

Control the content you see on ConstructionCanada.net!
Learn More.