F. Ross Browne Award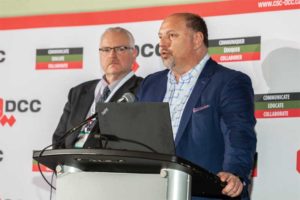 The F. Ross Browne Award recognizes editorial excellence in Construction Canada, highlighting the author or co-authors of an article in the magazine. This year, the publication's editorial advisory board (EAB) chose a September 2018 piece from a shortlist of top contenders. Frequent Construction Canada contributor Steve Titus, P.Eng., was the recipient for his article, "Making Music in an Old Warehouse."
Program Director Awards
Program Director Awards were given out in several categories.
Publications Award
For their years of service on the Editorial Advisory Board (EAB) of CSC's flagship publication, Construction Canada, the recipients of Publications Program Director Awards were Brian Colgan, FCSC, RSW, Mitch Brooks, FCSC, and Phil Evans, FCSC.
Technical Studies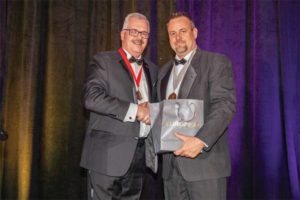 Claude Giguère, FCSC, received the Technical Studies Committee Program Director Award for his continued work as the CSC representative to the Institute for BIM Canada, now called buildingSmart Canada. For their work on the review of CCDC documents, Kelly Sawatzky, CSP, RSW, and David Graham also received awards.
Conferences
In recognition of their work in hosting the informative and fun event in Regina, members of the 2019 Regina Conference Committee (in attendance) received Program Director Awards:
Tim Walsh, CCCA
Kevin Hendricks
Katrina Nagle
Jay Jones
Chris Roszell
Darrell Kennedy
Nicole George
Amber Burt
Bob Friesen, CCCA
Collin Halliwell
Don Shankowsky
Roberta Walsh
Garth Huber
Rick Hadubiak, CTR, CCCA
Rory Gin , CCCA
Dylan Elliott
Wyatt Eckert