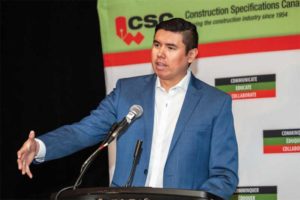 At the next day's luncheon, sponsored by Kenilworth Media Inc. (publishers of this magazine), keynote speaker, entrepreneur Kendal Netmaker, detailed his journey growing up in poverty in Sweetgrass First Nation, Sask., to the creation of his company, Neechie Gear—a lifestyle apparel brand that empowers youth through sports. A percentage of all Neechie Gear profits go toward funding underprivileged youth to take part in sports.
Later, at the CGC-sponsored Fun Night, attendees donned their favourite sports team jersey and boarded buses to Mosaic Stadium, home of the Saskatchewan Roughriders, for an old-fashioned tailgate party. Festivities included delicious food, games, comedy, and live music.
A highlight of the conference is always the President's Reception and Ball (sponsored by Custom Tile Installation System). Delegates, companions, and special guests celebrated this year's Life Award and President's Award recipients, and listened to an address by incoming president Greg Hofsted on the value of being a CSC member and the importance of continuing the work the association has done thus far in improving communication and documentation in the AEC community. The formal program was followed by a night
of dancing.
Recognizing excellence
Sponsored by Alumicor, the annual awards luncheon was emceed by the Atlantic Chapter's Abigail MacEchem, RSW. The event gave CSC a chance to celebrate its best and brightest members and associates.
CSC Life Award
The CSC Life Award is the highest accolade the association bestows on individuals in recognition of their service. This year, two distinguished CSC members were honoured with Life Awards: Brian Colgan, FCSC, RSW, of the Atlantic Chapter and Michael Schneider, FCSC, CCCA, of the Edmonton Chapter.
Brian Colgan, FCSC, RSW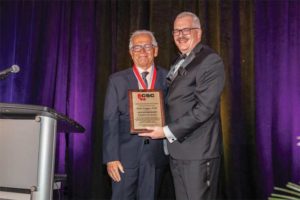 Colgan has been a member of CSC for more than 25 years, having joined in May 1993. He became a Registered Specification Writer (RSW) in 1998.
Colgan has held various positions on CSC's executive council, including president (2009 to 2010) and vice-president (2005 to 2009). He also served as the director of the Atlantic Chapter in 2002.
As vice-president, he prepared the much-referenced how-to guide, "So You're the Chapter Chair Now." He was also instrumental in establishing the online version of the Technical Representative (TR) program.
After completing his term on the executive council, Colgan returned to the board as registrar for three terms.
Colgan has represented CSC on the Uniform Drawing System (UDS) Task Team of Construction Specifications Institute (CSI) for a number of years. He was a member of the TSC and Tek-Aid committees and Construction Canada's Editorial Advisory Board. Colgan also started the Acronyms and Abbreviations Guide for Board members.
Colgan played an instrumental role on the Education Maintenance Task Team (EMTT) for several years. He continues to act as a mentor and sounding board to many members on the executive council as well as at the chapter level.
He has worked for over 40 years at what is now known as Architecuture49 in Halifax, N.S., after earning his diploma in architectural drafting from Dr. Burnridge Vocational School in 1970.
As a seasoned project manager and senior specification writer, Colgan is responsible for the preparation and implementation of contract documentation, working with municipal, provincial, and federal governments in procuring development agreements, and assuring officials local codes, zoning requirements, and national code standards are adhered to in all documents.
Recipient of numerous CSC awards, Colgan was inducted into the CSC College of Fellows in 2011.