by Blair Adams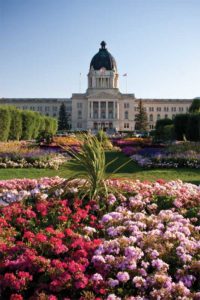 The spirit of Rider Nation was ever-present as attendees gathered at Delta Hotels Regina for the Construction Specifications Canada (CSC) national conference. Held May 22 to 26 in Regina, Sask., the theme of this year's conference was "People, Building, Opportunity," but one could not help but feel "the 13th man" vibe that has become synonymous with the city and their beloved Canadian Football League (CFL) team, the Saskatchewan Roughriders.
A hallmark of CSC conferences is the outstanding networking opportunities combined with a top-notch speaker program. This year, the Regina Chapter organizing committee did not disappoint, garnering much praise from attendees for a job well done.
The event kicked off with the Welcome Reception (sponsored by Building Systems Design [BSD]), followed the next day by the Welcome Breakfast featuring a presentation by this year's conference charity, Street Culture Project Inc., a Regina based non-profit organization that actively works to empower vulnerable youth within the community.
The technical discussions were standing-room only as attendees had a choice of three educational streams each day. The sessions included presentations such as "Women in the Industry: A Panel Discussion on Technical Writing, Design & Other Relevant Topics,"  which was moderated by Kim Tompkins, FCSC, CTR, and included panel members Abigail MacEachen, RSW, Alana Sunness-Griffith, FCSI, Melodie Pike, CTR, Kelly Sawatzky, CSP, RSW, and Colleen Barabonoff, RSW. Other topics included "Preventable Curtain Wall Failures," by Anthony Santocono of Kwaneer; "Fire Resistance and Firestopping," with Bill McHugh of the Firestop Contractors International Association; and "A New World of Acoustics," with Bob Lang of Armstrong World Industries.
Throughout the conference, there were experts sharing experience and sage advice on everything from innovations in mass timber construction to insurance myths and concrete specifications, to name a few.
Toting CSC/BSD SpecMarket.com conference bags, attendees were also able to network during 'speed' sessions between seminars or in the exhibit hall during the popular Connections Café.
At the Thursday luncheon (sponsored by Mapei), delegates were glued to their seats listening to tornado hunter Greg Johnson share his harrowing experiences and amazing photographs chasing storms across parts of Canada and the United States.