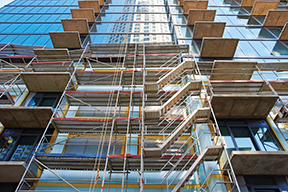 By Michael DeLaura, LEED AP, and John Edgar
The road to energy independence is paved with conservation. In spite of new methods of producing 'clean' energy, nothing beats conservation as the most cost-effective solution. This is why recent changes to building codes—such as the new National Energy Code of Canada for Buildings (NECB)—have emphasized the requirements for airtight building envelopes and continuous insulation (ci).
In an effort to build a more robust building envelope, wall assemblies are being improved to meet the specific requirements of the local climate. Air barriers are becoming an integral part of the design in wall assemblies and have been re-engineered to meet practical installation considerations. Fluid-applied air barriers can be used over any substrate and behind any cladding over a range of surface geometries without the requirements for origami overlaps.
Some of the more advanced fluid-applied air and moisture barriers were initially designed to function as substrate protection of drainage exterior insulation and finishing systems (EIFS).
EIFS have always been rigorously tested for evaluation services—both the Canadian Construction Materials Centre (CCMC) and the International Code Council Evaluation Service (ICC-ES) have required performance testing from drainage efficiency to fire resistance. Recently, questions regarding fire performance of some air barrier materials in conjunction with continuous insulation have arose. EIFS already has years of tested experience and this performance advantage has allowed the fluid-applied membranes to find new markets behind other claddings.
As the demand has increased for a more energy-efficient building envelope, air and moisture barriers became the products for substrate protection. The use of one continuous air and moisture barrier simplified the specification and design process. Air and moisture barriers provide protection against unrestricted water vapour movement, water leakage, and the resultant mould and mildew. One major difference between building wraps, self-adhesive membranes, and a fluid-applied air barrier involves the performance. Some fluid-applied air and moisture barriers, depending on the type and manufacturer, can be exposed to the elements for up to six months without a significant change in water penetration resistance. In what may appear to be backward thinking, the more robust fluid-applied waterproof air barriers become the functional cladding of the building and exposed decorative cladding becomes the screen to deflect rain from the inner barrier, hence 'rainscreen' cladding.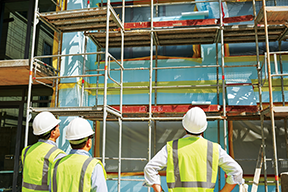 Other benefits of fluid-applied air and moisture barriers include:
fluid-applied membranes do not require highly skilled labour so installation is easy and there is minimized risk of errors;
water-based membranes have low volatile organic compounds (VOCs) which simplify installation by reducing protection requirements of the installer and the environment;
barriers are available as vapour-permeable or vapour-impermeable membranes to accommodate most wall designs;
fluid-applied membranes become one with the substrate making them rigid and stable under air and wind pressure loads;
membranes resists air leakage, which increases occupant comfort, reduces energy costs, and reduces risk of condensation;
doubles as air barrier and sheathing membrane, and protects rough openings while easily being incorporated with flashing; and
fire-tested by manufacturer, which means it can be used on all construction types.
Air barriers also lower heating and cooling cost and increase occupant comfort, and research has been conducted to prove their energy efficiency. The U.S. Department of Energy (DOE) finds that up to 40 per cent of the energy used to heat or cool a building is lost through air leakage.
The National Institute of Standards and Technology's (NIST's) study, "Investigation of the Impact of Commercial Building Envelope Airtightness on HVAC Energy" confirmed air barriers promote energy savings ranging from 30 to 40 per cent for heating climates and 10 to 15 per cent for cooling climates. The use of an air barrier in the wall assembly can contribute to points on a Leadership in Energy and Environmental Design (LEED)-certified project in the Energy and Atmosphere (EA) category. Points can be awarded in this category for conducting air barrier and/or building envelope testing, including Optimize Energy Performance and Enhanced Commissioning.

Control the content you see on ConstructionCanada.net!
Learn More.