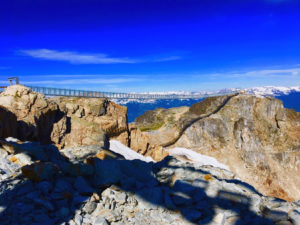 The Whistler/Blackcomb Cloudraker suspension bridge in British Columbia has won the 'Most Distinguished' award by the American Galvanizers Association (AGA).
The 130-m (427-ft) suspension bridge and 12-m (40-ft) cantilevered viewing platform sits at 2182 m (7160 ft) above the valley floor, providing visitors with 360-degree views. The process of erecting the bridge was complex and required the use of a special helicopter and crew. This meant the material used needed to withstand manhandling during installation, but with minimal maintenance requirements.
Nearly 100 projects were submitted to the 2019 Excellence in Hot-dip Galvanizing Awards representing the versatility and beauty of hot-dip galvanizing. A panel of judges made up of architects and engineers evaluated the projects online to determine the winners. The 2019 winners highlighted the need for strength and longevity of hot-dip galvanized steel in the construction market.
The New Gouin Bridge in Saint-Jean-Sur-Richelieu, Qué., was honoured in the 'Bridge & Highway' category. In the past, it has been served by a wooden and concrete bridge, both of which needed continual repair in the harsh climate. With a goal of a longer service life and lower maintenance costs, hot-dip galvanizing was chosen for the rebar and structural steel of the new bridge.