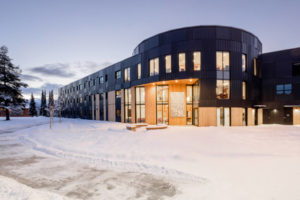 The Wii Gyemsiga Siwilaawksat student residence, by hcma architecture + design, has won the Canadian Wood Council Award, which recognizes and celebrates outstanding work in wood architecture.
The residence was designed and built in 17 months using a non-traditional construction approach combining modular wood frames and mass timber. It embraces First Nations culture and exceeds goals for durability and energy efficiency.
Thermal component modelling was needed to input assembly performance and overall thermal bridging impact into the energy model. Essentially, two variations of a typical assembly, each with different R-values, came together onsite.
Wii Gyemsiga Siwilaawksat satisfies the B.C. Wood First Act and exceeds BC Energy Step Code 4 energy efficiency in a Northern Coastal Climate (Zone 6), notable for a new building designed and constructed on a fast-tracked schedule using a non-traditional approach. The building envelope airtightness also greatly exceeds the targets for Step Code 4 compliance.
Volumetric modulars and proprietary structurally insulated wood/metal panels (SIP) used for floors and roofs required improvements to air, vapour, and moisture control detailing to reduce thermal bridging between site-built and factory-built construction when integrated with the conventional envelope system.
Custom metal brake-shape profiles in repeated patterns form the closed joint rainscreen system. Fabrication, sequencing, and flashing details developed and co-ordinated onsite. Energy modelling optimized design and justified aggressive low air leakage target to reduce cost and simplify exterior insulation and cladding connections.
The site-specific foundation was designed and constructed as an airtight insulated void above-grade for the volumetric modulars and aligned to the raised slab on compacted fill for the central assembly occupancy.