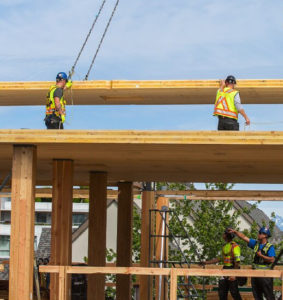 The British Columbia government is providing funding for 12 mass timber demonstration and research projects and has established a new advisory council to accelerate the adoption of mass timber building systems, as part of the province's economic recovery.
"Mass timber is good for forestry-dependent communities, workers, and the environment—because it adds value rather than just volume," said British Columbia Premier John Horgan. "That is why growing the sector is key to building a strong and sustainable economic recovery that reaches everyone."
The $4.2-million investment in mass timber demonstration projects and research will help urban planners and developers adopt mass timber building systems by supporting the incremental or first-time costs of design development, research, permitting, and construction activities. The projects will help advance CleanBC goals by sourcing from sustainably managed forests that have a lower carbon footprint.
The advisory council is a group of experts from urban planning and development, First Nations, forest products industry, environmental nonprofits, academia, and local governments. The council will provide advice and guidance toward establishing British Columbia as a leader in the production and use of mass timber, as well as the creation of a mass timber action plan.
"The face of construction is about to change in British Columbia through our government's investments in mass timber," said Ravi Kahlon, Minister of Jobs, Economic Recovery, and Innovation of British Columbia. "By encouraging greater use of mass timber, we are supporting jobs in research, design, engineering, construction and forestry using B.C. expertise and materials."
The demonstration projects reflect a range of different building types and approaches to using mass timber that will highlight the versatility and performance of this building material. These include a firehall with strict post-disaster requirements, an Indigenous health and culture centre, and low-cost housing on Vancouver's Downtown Eastside.
The research projects will study mass timber's fire performance, the costs relative to steel and concrete, and carbon benefits. All project innovations and best practices will be broadly shared to promote learning and further advance mass timber use provincewide.
"B.C. is well positioned to be the world leader in sustainable design and construction innovations that can transform our economy and positively support our environment and climate footprint," said Michael Green, architect and mass timber advisory council member. "I believe mass timber will reshape our skylines with beautiful buildings that respond to the needs of our communities and planet.  We are proud of the initiatives of the province and peers as we move new ideas forward together."