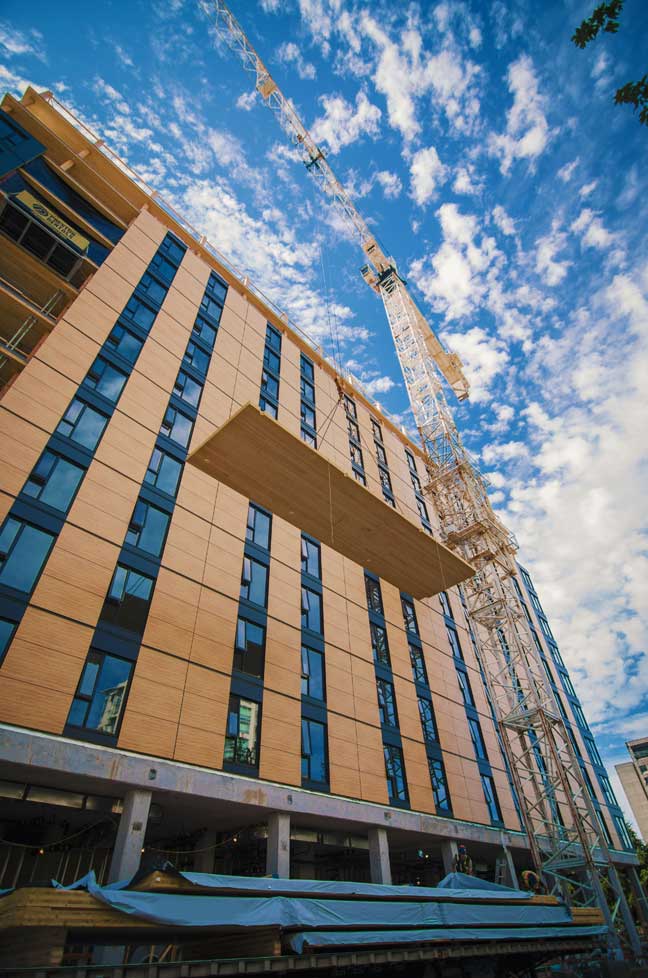 Last month, the Institution of Structural Engineers recognized the best in global engineering projects at the 2017 Structural Awards in London, England. Designed by Fast + Epp, TallWood House at the University of British Columbia's (UBC) Brock Commons was among the winning projects, receiving the Award for Construction Innovation.
Celebrating its 50th year, the awards honour projects that demonstrate outstanding engineering and creative design. Ranging from temples to tourist attractions, this year's diverse recipients were selected from a shortlist of 45 projects, selected from 119 total submissions. The three-stage judging process evaluated projects based on excellence, innovation, elegance, sustainability, and value.
"When you think you've seen it all, another year of exemplary entries are received, elevating structural engineering, yet again, to another level," said the Institution's chief executive Martin Powell. "We have witnessed some breath-taking projects at this year's awards, featuring ingenious use of materials and new construction methods to create buildings, bridges, and landmarks that inspire."
Projects were recognized across 14 categories. Vancouver's Fast + Epp was honoured for its innovative use of mass timber in the design of UBC's TallWood House. The top accolade of the night, the Supreme Award for Structural Engineering Excellence, went to Jacobs for developing British Airways i360 in Brighton, England. (Fast + Epp took this award last year for its design of Grandview Heights Aquatic Centre in Surrey, B.C.)
"Each project celebrates the very essence of structural engineering," says Powell, adding that the recipients are examples of "guardians of public safety and innovative, problem-solving design professionals."
Fifteen awards were presented at the event, including The Award for Vehicle Bridges and The Award for Structures in Extreme Conditions. For a full list of recipients, click here.
To read more about TallWood House, see the June 2017 Construction Canada cover story by clicking here (or click here for web feature).