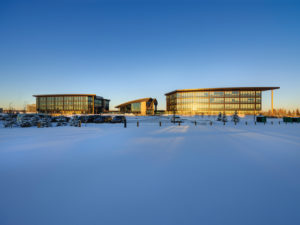 International architecture practice Pickard Chilton has won two American Architecture Awards for its design of the ATCO corporate campus in Calgary, Alta., and the Northwestern Mutual Commons and Tower in Milwaukee, Wisconsin.
The awards recognize the best new architecture designed and constructed by American and international architects with offices in the United States and are the nation's highest public award given by a non-commercial, non-trade affiliated, public arts, culture, and educational institution.
In Calgary, a composition of two four-storey office buildings serve as the 40,319-m2 (434,000-sf) headquarters for ATCO. The buildings surround a leaf-shaped quad and are interconnected by a multipurpose commons. Enclosed conference and amenity pods dispersed throughout the commons evoke the modular mobile offices designed and built by ATCO.
The Leadership in Energy and Environmental Design New Construction Rating System (LEED-NC) Gold-certified buildings provide day-lit panoramic views and advantageous solar orientation. The commons is composed of glue-laminated (glulam) wood columns and beams with a cross-laminated timber (CLT) deck. Tall, vertical wood fins and deep roof eaves are tuned to maximize views while optimizing natural light.
The Northwestern Mutual Tower and Commons create a high-performance urban campus. Implementing best practices in workplace design, the 32-storey office tower's curved form at the eastern edge of the campus embraces the gardens and maximizes panoramic views. As the heart of the project, the commons creates a cohesive, organized campus that provides training facilities, meeting spaces, dining, and terraces.
Nestled in the historic 1914 headquarters, a skylit atrium knits together the old with the new and includes a 1.2-ha (3-acre) garden and pedestrian-oriented streetscapes.