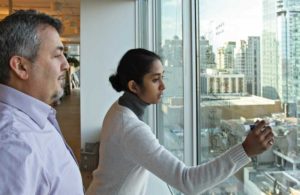 Managing the deferred design and collaborative design process
Deferred design is completed by supporting registered professionals or supporting certified/qualified contributors who can provide supplementary supporting engineering, knowledgeable contributions, or architectural services for components of a defined discipline's contribution during the construction phase of the project, provided they can submit appropriate assurances of their ability to design these components based on engineering provided by the design professional of record.
Collaborative design is similar in concept to deferred design, but occurs during production of the construction documents, where the supporting registered professionals' contributions are fully incorporated by the RPR prior to the construction phase of the project.
Building codes in North America allow registered professionals of record to defer or assign design solutions for building components to "others" using appropriate delegation or assignment language through the contractual language and specifications. Transparency by the RPR is required to keep the owner fully informed regarding what design will be performed by themselves and what will be performed by others.
The one limitation under provincial state licensing guidelines is the co-ordinating professional of record and the registered professionals of record are not permitted to defer, delegate, or assign their responsibilities for compliance with the building codes; the responsibility for deferred or collaborative design remains with the co-ordinating professional of record.
Design intent versus design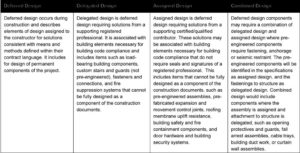 The phrases "design intent" and "design" are often used synonymously by registered professionals, as if they have the same meaning. Discussions arising from the concepts of deferred design require recognition of two separate functions associated with design intent and design.
Design intent represents the responsibility of registered professionals of record to the public regarding safety, and responsibility for incorporation of functionality and esthetics described by the owner's stated performance requirements. Design represents the solution or outcome derived from the design intent. These words are used within this discussion to represent these two aspects and to maintain a clear distinction between the design intent responsibility of the design professional and the design solution responsibility of the constructor.
HISTORY OF COLLABORATION
Prior to the middle of the 19th century, there was a single role encompassing builder and designer. The separation between engineers, architects, and constructors evolved to what we now associate with modern construction practice: the arrangement of design responsibilities between licensed design professionals (e.g architects, engineers, and interior designers) and constructors (contractors, construction managers, and design-builders). Design professionals were respected and trusted to deliver on the full extent of the owner's design brief. Constructors understood their contributions, using craftsmanship and intrinsic trade knowledge to provide expertise in interpreting the requirements described by the design brief.

Control the content you see on ConstructionCanada.net!
Learn More.