Alberta college facility wins wood design award
March 20, 2018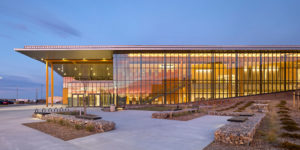 An expanded trades and technologies centre[2] at Lethbridge College[3] in Alberta recently received top honours at the Prairie Wood Design Awards[4] for the institutional building category.
The Trades Technologies Renewal and Innovation Project (TTRIP), designed by Diamond Schmitt Architects[5] in association with Sahuri + Partners[6], adds 15,793 m2 (170,000 sf) of program space to the college, and features both structural and design elements in timber.
The expansion organizes new workshops, labs, offices, and classrooms around a north-south central spine and adjacent learning commons.
"The extensive use of wood supports the goal of creating a cohesive and legible plan that identifies the different program areas," said Michael Leckman, principal, Diamond Schmitt Architects. "Wood also enhances the ambience of the new public areas where informal study and gathering space encourage student encounter and the opportunity to continue learning outside the classroom or workshop setting."
Wood elements in the facility include the wood-lined atrium, central spine ceiling, custom-designed doors, and 22 structural columns.
The use of wood as a design element supports the college's focus on sustainability by making the facility both a showpiece and learning tool for energy-efficiency. An array of passive and active sustainable design features include net-zero utility cost to operate the expanded area at no more than the smaller facility it replaces. The building optimizes daylight access, building envelope performance, and mechanical-electrical system integration. It is positioned to achieve Leadership in Energy and Environmental Design[7] (LEED) Gold certification.
The undulating roofline is a defining feature of the building and references the region's gently rolling coulees. Two slender wood columns support an overhang to create a sheltered area at the main entrance and signal the procession of paired wood columns along the central spine.
Endnotes:
[Image]: https://www.constructioncanada.net/wp-content/uploads/2018/03/Lethbridge-College-ext-Photo-Tom-Arban.jpg
centre: https://www.constructioncanada.net/innovation-centre-encourages-learning-alberta-college/
Lethbridge College: https://lethbridgecollege.ca/
Prairie Wood Design Awards: http://wood-works.ca/alberta/wda/
Diamond Schmitt Architects: https://dsai.ca/
Sahuri + Partners: https://www.sahuri.com/
Leadership in Energy and Environmental Design: https://www.cagbc.org/@/CAGBC/Programs/LEED/Going_green_with_LEE?hkey=54c44792-442b-450a-a286-4aa710bf5c64
Source URL: https://www.constructioncanada.net/alberta-college-facility-wins-wood-design-award/
---