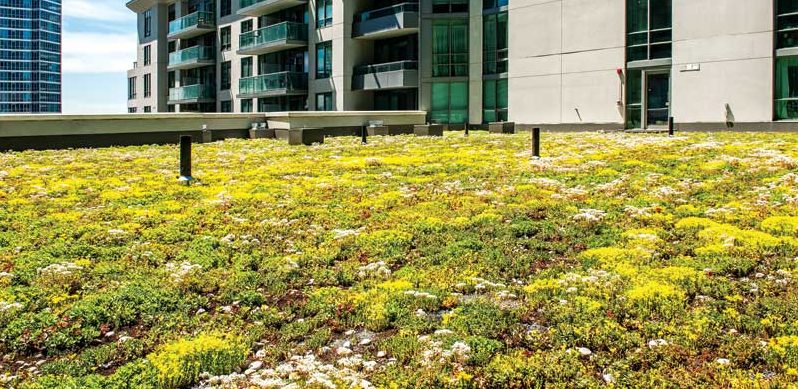 By Darja Majkoviˇc, PhD, Jure Šumi, and Cristina Senjug
Vegetated roofing has long been recognized as an effective stormwater management tool in urban centres to help store and attenuate runoff from impervious rooftops. New technological advancements are helping further increase stormwater retention capacity on rooftops while keeping weight low. One such significant advancement is the use of rock mineral wool (RMW)—which offers both advantages—in place of a greater depth of traditional growing medium.
There are several varieties of mineral wool on the market, produced for different applications. When it comes to stormwater retention and vegetated roof survivability, not all mineral wools are created equal. As the lifespan of vegetated roofs may be several decades, it is imperative to understand the differences in varieties of RMW, as well as their effectiveness and durability as stormwater management tools.
History
Mineral wool is a general term for a light, artificial wool made of an inorganic substance such as glass, stone, or slag. It was originally invented in the mid-19th century for thermal and acoustic insulation in the construction industry.
Almost 50 years ago, a modified form of RMW in the form of slabs, blocks, and bonded fibres started being used as a substrate in hydroponics in Denmark. (For more, read the 2002 article, "Substrates and their Analysis" by M. Raviv et al., published in D. Savvas and H. Passam's Hydroponic Production of Vegetables and Ornamentals by Embryo Publications in Greece.) Today, it is present in virtually all advanced horticultural markets, and is used for growing hydroponic fruits, vegetables, herbs, and flowers.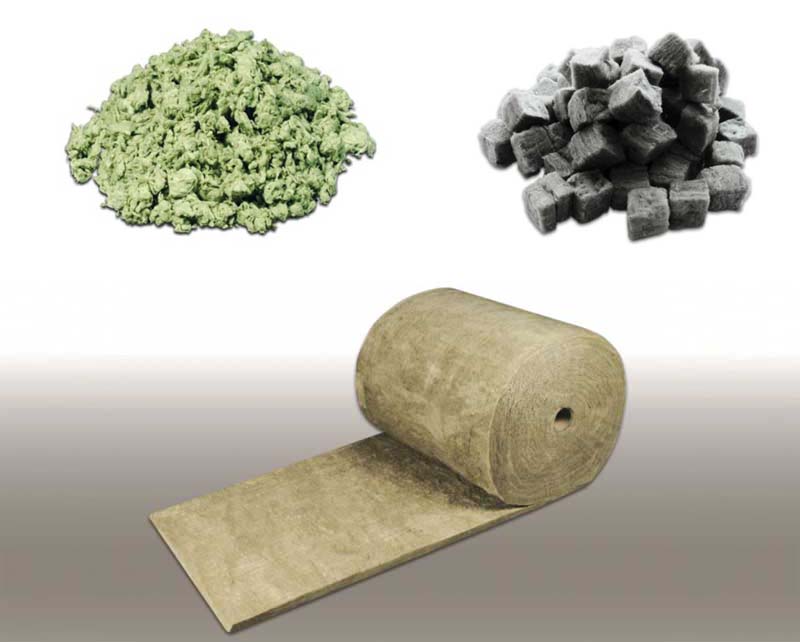 RMW for vegetated roofing applications is manufactured by a fiberization process induced by heating a mixture of various rock components (usually diabase, dolomite, granite, basalt, etc.), which are melted together at high temperatures. (Further information on mineral wool production can be found in B. Širok et al.'s 2008 publication Mineral Wool Production and Properties from England's Woodhead Publishing Limited.) The melt is spun into thin fibres on fast-rotating machines and is later bound for dimensional stability.
Generally, there are two major differences between methods of making the loose, melted rock fibres dimensionally stable and transforming them into slabs, blocks, or wool. They can be bound using a chemical-free needling process to physically interconnect loose fibres, or those loose mineral wool fibres can be glued with binders. Examples of the latter option include:
sodium silicates;
polyesters;
melamine urea formaldehyde;
polyamides;
resin-based phenolic; or
furane-based resins. (From Kowatsch's article, "Mineral Wool Insulation Binders," published in Phenolic Resins: A Century in Progress from 2010.)
Developments
Advancements have been made in the manufacture of mineral wool over the decades, offering environmental alternatives and products with superior performance.
One development has been the use of formaldehyde-free binders, which rely on renewable resources. This new generation of mineral wool is an environmentally responsible alternative to phenol-based products. It uses renewable resources for binding agents and has enhanced water absorption characteristics.
The most notable development is the production of the needled rock mineral wool, manufactured without additives or binders. It is important to understand how this engineered product supports long-term stability and stormwater retention performance in outdoor applications such as vegetated roofing.

Control the content you see on ConstructionCanada.net!
Learn More.