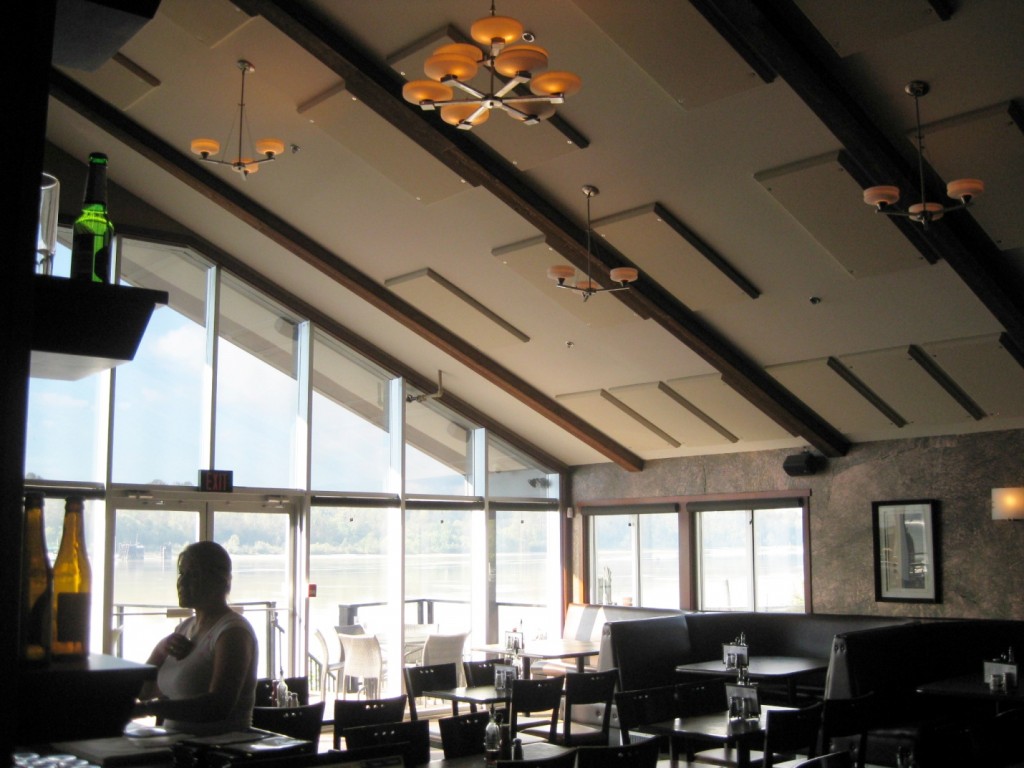 By Peter Janis
In a 2015 dining trends survey by Zagat, the number-two complaint by restaurant-goers, after service issues, was excessive ambient noise. People often have to speak excessively loud to be understood by their dining companions sitting next to them. This ambient noise and subsequent voice raising can be irritating and cause patrons to avoid future return visits. Therefore, lowering ambient noise can improve the restaurant's profit.
To solve these issues one must identify what is occurring in these acoustically challenged spaces. When the sound generated by a music system, patrons conversing, staff communicating, and kitchen noise is combined, it builds up and reaches a point where the energy in the room is no longer able to be absorbed or dissipated. Moreover, design trends have evolved toward very open spaces (high ceilings) with hard surfaces (wood, metal, stone, tile, glass), which are very reflective of sound. This wide variety of sound in restaurants bounces off the reflective surfaces inside and increases the baseline volume, causing people to talk louder. The increased noise (noise floor) causes owners to increase the volume of the music, and this cycle is repeated resulting in a high volume, unintelligible mass of sound.
Some restaurateurs attempt to explain noise levels with various other justifications. For instance, some owners believe the ambient noise in a room makes it more exciting—hypothetically increasing alcohol sales or causing tables to turn over more quickly. Although these justifications may be true with a segment of a younger crowd, the real issue here is the clientele. Restaurant owners need to consider who they are trying to attract—and, more importantly, who are they inadvertently turning off.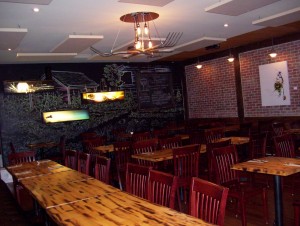 Addressing noise
In order to resolve the excess noise inherent in many restaurants, owners should incorporate acoustically absorbent materials—either as part of the initial design, or as an aftermarket addition. In the design phase, acoustic panels can be strategically placed within the ceiling structure or on walls and incorporated into the design of the space. Similarly, post-construction, ceilings and walls offer opportunities to help tailor the acoustics of the space.
Some restaurant owners hesitate to address acoustics or noise issues in their spaces because they believe the cost will be too high. While a concert hall or recording studio might see material costs reaching $50,000 to $100,000, most restaurants can be acoustically 'repaired' for between $2500 and $10,000 depending on their size.
Acoustic panels are porous devices hung on the walls or from the ceiling. Sound waves enter the panels causing the minute fibers to vibrate. This thermos-dynamic process essentially converts sound into heat. Most restaurants are in commercial areas, so attention must be paid to fire safety. For Canada panels safe for use in commercial applications must be tested by an independent lab to ensure they pass CAN/UL S108.

Control the content you see on ConstructionCanada.net!
Learn More.