What to consider with an acoustical consultant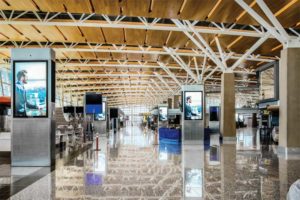 Here are six items to consider—with input from specifiers and acoustical experts alike—when weighing the role of an acoustical consultant on a project.
Budget versus value
Perhaps unsurprisingly, the main reason for avoiding the hiring of an acoustics expert on projects greatly benefitting from their recommendations usually comes down to available budget. When budgets are tight—or under the control of a general contractor (GC) other than the architect or designer responsible for acoustics—going through the processes for effectively attenuating a building's acoustics can, on the surface, seem cost prohibitive. However, again, the remediation efforts for poor acoustics can be even more costly, time consuming, and disruptive to occupants.
"Working in the industry, we understand budgets can be tight, and my main advice to clients in this regard is to ensure they simply tailor their scope to the level of fees they can support," says Titus.
Mark Bliss, president at Vancouver-based acoustics firm BKL Consultants, agrees. "Even if we are just hired to perform an initial review at the beginning of a project, that can at least help the stakeholders understand the acoustical risks they face on a project, for a building's functionality and for its reputation" he explains. "We have been involved on too many projects where major decisions were made without this awareness and issues could have been easily avoided."
Peter Osborne, a partner at GEC Architecture, understands the value of having a trusted acoustics expert on his projects. GEC with offices in Edmonton and Calgary has designed recreation centres, post-secondary institutions, LRT corridors and extensions, and a variety of innovative mixed-use/residential developments. The science of acoustics factors heavily into the vast majority of their work.
"We see it as a research- and evidence-based approach to design," explains Osborne, who works in GEC's Edmonton studio. "We do not want to just guess and hope the space is going to function. We want to create an environment we know is going to perform. An acoustician can run tests and speak to whether we need more or less of a certain absorbing material for a space to be successful."
He brought that mentality to his design of the Northern Alberta Institute of Technology (NAIT) Productivity and Innovation Centre in Edmonton, which trains students pursuing tech careers in solving industry-driven problems through applied research. It is a wide-ranging education requiring a flexible, high-performance space with acoustic control calibrated for different types of tech research happening throughout the building.
The building's A wing features large, open, single-story space with a 6-m (20-ft) head space housing lab spaces dedicated to hands-on research that can be wet, messy, dirty, and noisy. The B wing is a four-storey structure designed for heads-down analytical research with classrooms, collaborative breakout spaces for small meetings, and a large lecture theatre. The wings are linked by an atrium functioning as a gathering space for researchers and doubles as an event and conference space for NAIT to showcase its educational programs to the public.
"We consulted an acoustician who helped us look at the design of the various rooms and the kind of qualities they needed," Osborne says. "We also met with users to get an understanding of what they required."
Esthetics was also of concern. The space needed to offer the 'NAIT' look and feel—high-tech and industrial to reflect the institution's polytechnic roots and forward-looking, solutions-oriented culture.
"In the B-wing classrooms and breakout spaces, we used metal ceiling baffles as a way to control noise within the spaces but still allow us a level of an exposed ceiling," Osborne explains. "The metal baffles were really important in providing a connection to the exterior, which has a lot of anodized aluminum elements, and we wanted to bring that technical aspect into the design of the public spaces of the building. It gives the building a unique, modern quality and a technical feel that you would not get with a more conventional product.
A good ear and eye, and a practical mindset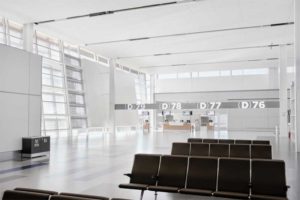 It is key to work with an acoustical consultant who understands architectural design. Acoustical consultants can be theoretical, but architectural realities often demand more practical approaches. Building teams want a consultant who has experience working in architectural spaces and considers esthetics and design in their recommendations.
One of Rob Adamson and Dialog's recent projects included the state-of-the-art redesign of the international terminal at the YYC Calgary International Airport, which moves 15 million air passengers a year. In terms of acoustics, the 185,000-m2 (2 million-sf) open-space structure was a complicated project with different zones requiring various levels of acoustical support. There were also the added challenges of working within the existing building plans (underway for several years), and contributing to the sustainability and carbon footprint of the terminal design.
Adamson and his team worked with Cliff Faszer of FFA Consultants in Acoustics and Noise Control, addressing the acoustic needs for each zone individually with multiple acoustical ceiling products and large floor-to-ceiling columns made of sound-absorbing material, and in the process, the product selection also ensured esthetics was not compromised.
"Sometimes we are interested in special qualities—the look, feel, and esthetics," says Adamson. "So the ability to bring that creative thinking to solving design problems is an important attribute we look for in acoustical consultants."
Bliss echoes the sentiment.
"Even for professionals in building acoustics, consultants with experience and knowledge in the specific needs of certain building types are not so common," he says. "Understanding the balance of acoustical needs within, say, healthcare or education buildings requires a degree of expertise that can only be gained through an accumulated knowledge of the specific requirements of the users and the limitations of construction methods."
An understanding of construction limitations is important for offering creative acoustic solutions to those constraints.
"We have circumstances—like some hospital projects, for instance—where the recommendation is six layers of drywall on steel-studded partition walls to achieve sound transmission class [STC]. Think of how thick and heavy that wall is to support and how costly it is to build. You have to have a smart acoustical consultant who says, 'If you want to achieve that level of sound separation, there are other ways to do it.' They have to be agile and skillful to be able to work in the contractor world," says Adamson.
STC can be described as the rating of how effective building partitions are in attenuating airborne sound.

Control the content you see on ConstructionCanada.net!
Learn More.