by Robert Marshall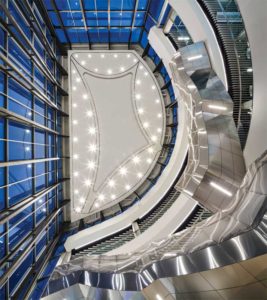 The design challenges of today's modern multi-use spaces are much more complex compared to those of even a decade ago. Now, more than ever, architects and designers are expected, as a matter of process, to reckon with every element of holistic building design and how each of those elements behave and affect the physical, emotional, and psychosocial well-being of its occupants.
It is no longer just about what functional end a space will serve, but also how the occupants of area feel when they are in it. Today, facilities need to be malleable and reflective of the occupants, transforming with the mercurial nature of life and work, and sometimes personal whims.
So with the ever-evolving end-user demands comes the evolution of design: Occupant well-being has joined beauty and function at the core of how construction professionals have come to define good building design, and its elemental units are things of all the senses: light, space, geometry, texture, surface material, air quality, and acoustics, among others.
Acoustics, specifically, is one of the more significant factors, especially in workplaces, schools, hospitals, public buildings, and other high-use spaces with areas of disparate functions. Consider, for example, workplace environments. A recent governmental study revealed one of the most persistent workplace issues is unwanted noise, noting that more than 11 million Canadians—nearly a third of the entire population—work in noisy environments or had done so in the past. This does not come without consequence—regular exposure to excessive noise can stifle learning, productivity, and collaboration in the workplace, and, worse, it contributes to a host of health issues, such as elevated blood pressure, sleep disturbance, stress, hearing loss, and tinnitus.
These kinds of statistics—combined with building owners and tenants who are better informed about the kinds of performance and ambiance they want in their spaces, stricter National Building Code of Canada (NBC) regulations designed to reduce unwanted noise, and manufacturers who are developing more design-forward acoustical building products—have helped move the science of acoustics into the nucleus of holistic building design strategy. This means acoustics experts are now one of architecture's best cross-sector resources for creating spaces geared for occupant well-being.
"We have always had a portfolio of work that has covered institutional and sensitive-use projects such as performing arts centres, studios, and residential," says Steve Titus, a writer for Construction Canada and CEO of Aercoustics Engineering Ltd., an acoustic consulting firm in Mississauga, Ont. "However, what we have seen recently is much more conscious effort on behalf of building owners, brokers, and tenants who are paying closer attention to the quality of the buildings in terms of acoustics. We are now being called upon and involved much earlier and more proactively in the commercial space."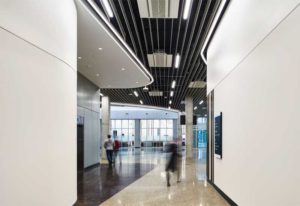 Yet, while blue-chip architectural firms with high-profile clients and larger budgets tend to rely on a go-to acoustical consultant for their projects, some firms often find themselves on design-build projects without the decision-making power, or the budgetary control to employ acoustical specialists as a part of the design process.
"Sometimes we deliver buildings the traditional way, where we are the consultant hired directly by the owner," explains Rob Adamson, an architect who specializes in large-scale government and transportation buildings for Dialog in Calgary, Alta. "In other cases, we are in design-build, and the contractor's motivation is to make a nice building as cost-effective as it can be, so there can be circumstances where the use of an acoustical consultant becomes difficult to include in our project work."
Firms that cannot employ an acoustical specialist are at a disadvantage in controlling acoustics, and the spaces they design are at risk for noise hazards. Those stakes become even higher within the context of open-plan design—which exploded over the last decade into the default approach to residential and commercial space planning, thanks to client taste and the cost efficiencies it offers—because there are fewer surfaces to absorb sound.
So what are specifiers and designers to do?
The case for an expert
An acoustics specialist is a wise investment for most medium- and large-scale projects (especially open-plan projects). Even if designers have a basic understanding of the fundamentals of acoustics, chances are they lack the institutional training and specialized tools of an expert, not to mention the field experience to interpret sound wave patterns into usable design and building product recommendations.
Also, a common misconception is that acoustics is a commodity, and the same control measures of one building type can be applied to similar buildings. Therefore, a consultant is not needed. Indeed, many spaces share common characteristics, but one does not really know how sound will behave from building to building or even space to space. As occupant well-being becomes a bigger piece of the architect's puzzle, acoustic solutions should be adapted and tailored for each project and an experienced acoustician can identify when to rely on a past solution and when to create a new approach.
The acoustical performance of a space designed without the input of an expert can certainly be functional, but it is rarely optimal. In the best cases, acoustics are tolerable for occupants. In the worst, acoustic control is ineffective or altogether nonexistent, threatening occupant well-being and potentially resulting in code violations and expensive remediation efforts.

Control the content you see on ConstructionCanada.net!
Learn More.