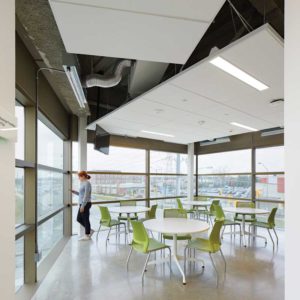 LEED version-4.1 offers acoustic credits in three categories and WELL version-2 includes sound as one of its 10 concepts with eight corresponding features. Using a three-step approach to optimize acoustics supports these programs' criteria and projects' larger wellness initiatives.
∞ Firstly, selecting the appropriate NRC rating for ceiling panels, absorbing sound and controlling reverberation and noise.
∞ Secondly, selecting the appropriate sound transmission class rating for wall and floor-to-ceiling assemblies, preventing noise transfer between rooms using full-height walls.
∞ Thirdly, selecting the proper background sound levels, masking annoying or distracting noise.
In addition to acoustic comfort and IAQ, acoustic ceiling systems contribute to indoor environmental quality through improved lighting and energy efficiency. Specifying a bright white ceiling panel with a smooth surface for high light reflectance more efficiently utilizes electrically powered lighting and maximizes natural light. The diffused, reflected light reduces glare on screens and monitors, which lowers the likelihood of eye strain, headaches, and impaired concentration, further supporting occupants' health and well-being.
With a clear connection between people's health, specifying products related to IAQ and EQ becomes a critical consideration. Ceiling system manufacturers can support project requirements with product transparency, material disclosure, and with product solutions that offer natural resistance to mould and moisture, low VOC emissions, acoustic optimization, and high light reflectance. Thoughtful material production, selection, and specification will deliver the most advantageous outcome at the intersection of health, comfort, and sustainability.
Author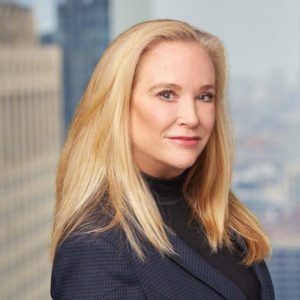 Diana Hart, CSI, IIDA, serves as manager of architectural sales and business development for Rockfon North America, part of the ROCKWOOL Group. Working with architects, designers, and specifiers, she helps in selecting advanced acoustic ceilings and wall solutions to create beautiful, comfortable spaces. She can be reached at diana.hart@rockfon.com.

Control the content you see on ConstructionCanada.net!
Learn More.