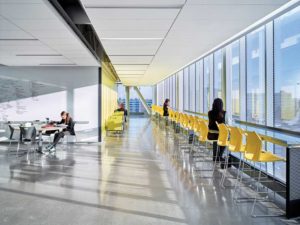 Stone wool and metal are inherently mould-resistant materials, and easy to clean without harsh chemicals. They are not organic and, therefore, they do not provide sustenance to mould, mildew, bacteria, fungi, and other micro-organisms. The stone wool is also hydrophobic and repels water, moisture, and humidity.
Beyond mould mitigation, ceiling panels that resist moisture and humidity do not sag, warp, rot, or fall out as a result of water absorption. Hydrophobic materials like stone wool support good IAQ by alleviating concerns associated with supplemental natural ventilation from operable window systems, or when HVAC systems are turned off when the building is unoccupied. This moisture-resistant attribute can also assist during buildings' construction schedules by allowing ceilings to be installed prior to the envelope being completely sealed or the HVAC made operational.
Achieving higher IAQ objectives with lower emitting ceiling products
Products verified and certified for low VOC emissions not only support IAQ and EQ objectives, but also material ingredient reporting and transparency criteria by CaGBC's LEED version-4.1 and IWBI WELL version-2. The documented advantages of low-emitting products also are recognized by Building Research Establishment Environmental Assessment Method (BREEAM) Canada, Collaborative for High Performance Schools (CHPS) Criteria, Center for Active Design (CfAD) Fitwel global healthy building certification, and other programs promoting sustainability and wellness goals.
Supporting these goals, acoustic ceiling materials with natural resistance to mould and low VOC emission levels are readily available in North America. Metal ceiling systems have no reportable emissions from VOCs. A wide range of acoustic stone wool ceiling products have earned UL Environment GreenGuard Gold certification for low emissions and are available with ILFI Declare Label 2.0 supporting the Living Building Challenge (LBC).
The LBC 4.0 standard's Imperative 10 requires all interior building products that have the potential to emit VOCs to demonstrate their compliance. Further, Imperative 13 requires manufacturers to disclose the ingredients in their products to ensure they are free of Red List chemicals. Included on the LBC Red List are VOCs in wet-applied products, monomeric and polymeric flame retardants, and antimicrobials marketed with a health claim.
The Declare Label database is freely available to design and specification professions. Products can be searched by ILFI program, alignment with LEED and other programs' criteria, manufacturer, location, CSC/CSI MasterFormat division, and declaration status. Nearly 100 ceiling product types are listed under '09 50 00 Ceilings,' with each having one of three types of declaration status:
∞ Declared—This indicates 100 per cent disclosure but contains one or more Red List chemicals that are not covered by an existing exception.
∞ LBC Red List Approved—This indicates a minimum of 99 per cent disclosure but relies on one or more exceptions to demonstrate compliance.
∞ LBC Red List Free—This provides the highest assurance, indicating 100 per cent disclosure and that the product does not contain any chemical on the LBC Red List.
One must be aware, there also are two tiers of GreenGuard certification, with Gold being the more stringent. According to UL Environment:
∞ "Products that have achieved GreenGuard certification are scientifically proven to meet some of the world's most rigorous, third-party chemical emissions standards, helping to reduce indoor air pollution and the risk of chemical exposure, while aiding in the creation of healthier indoor environments."
∞ For next-level verification, products that earn the GreenGuard Gold certification standard also meet "health-based criteria for additional chemicals and also requires lower total VOC emissions levels to help ensure products are acceptable for use in environments like schools and health care facilities."
Specifiers should carefully review the GreenGuard Gold certification to ensure it complies with the project application. Remember, the larger the room, the greater its volume, which means there is more air to disperse chemical emissions. For example, the same emission levels will have a greater concentration and potentially greater effect in a small, enclosed office versus a large, spacious lecture hall.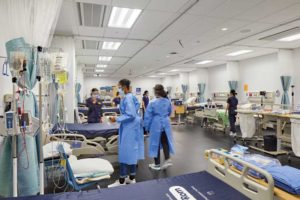 Beyond IAQ with optimized acoustics
A room's size, shape, function, and material selection not only affect occupants' health, well-being, and productivity through its air quality, but also through its acoustic experience.
"Noise is one of the most common occupational health hazards," according to the CCOHS. "Permanent hearing loss is the main health concern. Annoyance, stress, and interference with speech communication are the main concerns in noisy offices, schools, and computer rooms."
Effects of poor acoustics and IAQ in schools, offices, and other commercial interiors also include:
∞ increased absenteeism
∞ decreased job satisfaction and lower morale
∞ increased costs for substitute and replacement workers
∞ decreased accuracy and increased costs due to errors
∞ increased costs for building repairs, remediation, and insurance
∞ damaged relationships between building owners and occupants, supply chain and funding sources, and government and community leaders
"The best method of noise reduction is to use engineering modifications to the noise source itself, or to the workplace environment," advised the CCOHS. Selecting and specifying acoustic ceiling panels with a high noise reduction coefficient (NRC), typically an NRC 0.90 or higher, can provide the necessary sound absorption to create a good interior acoustic experience.

Control the content you see on ConstructionCanada.net!
Learn More.