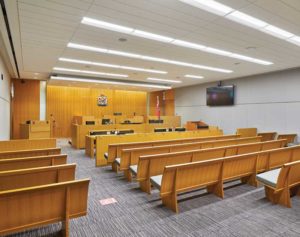 By Diana Hart
Specification professionals are expected to evaluate products' performance, durability, and longevity. Increasingly, product ingredients' chemistry and composition have been added to this list. Product transparency, material disclosure, and acoustic optimization are recognized and rewarded by the Canada Green Building Council's (CaGBC) Leadership in Energy and Environmental Design (LEED) version-4 rating systems, the International WELL Building Institute (IWBI) WELL Building Standard, and other sustainability standards.
Material disclosure and transparency
Whether or not a building team pursues LEED or WELL certification for a project, there is an increased emphasis on choosing products that support indoor environmental and air quality and contribute to healthy and comfortable interior spaces. Often, this requires working with manufacturers to gather the necessary documentation to evaluate products' claims and composition.
For acoustic ceiling products, examples of relevant documentation include the following.
Environmental product declarations (EPDs)
An EPD is a disclosure tool that details a product's sustainable qualities and environmental impact over its lifespan. EPDs can be developed after a product life cycle assessment (LCA) is conducted and are based on applicable product category rules (PCRs).
Exemplifying product transparency and accessibility, look to ceiling product manufacturers who offer third-party, industry-wide, cradle-to-grave EPDs on-demand by digital download. Complementing product specific EPDs, industry average EPDs also are available from industry associations. Both manufacturer-supplied product specific EPDs and association-supplied industry average EPDs may be third-party verified. For example, the Ceilings & Interior Systems Construction Association (CISCA) offers EPDs on aluminum and steel ceiling materials that are Underwriters Laboratories (UL) certified.
Health product declarations (HPDs)
HPDs are publicly available and published through the Health Product Declaration Collaborative's Open Standard version-2.2. This voluntary, standard format uses basic inventory methodology for reporting product-level thresholds and compositional chemistry down to 1000 parts per million (ppm). It can be searched by CSC/CSI MasterFormat division and section, such as 09 51 00 Acoustical Ceilings, and refined by manufacturer, product name, and other filters.
International Living Future Institute (ILFI) Declare Label
The Declare Label 2.0 by ILFI supports the Living Building Challenge by providing a transparent materials database that project teams can select from to meet the Red List requirements. ILFI asserts, "The Living Building Challenge (LBC) Red List represents the 'worst in class' materials, chemicals, and elements known to pose serious risks to human health and the greater ecosystem that are prevalent in the building products industry."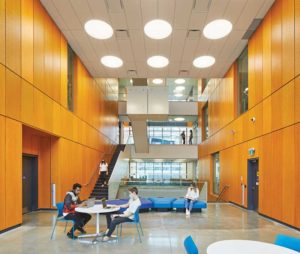 GreenGuard Gold certification for low-emitting products
Acoustic ceiling products that have earned GreenGuard and GreenGuard Gold certification are listed in the SPOT by UL database. According to UL, "The GreenGuard Certification Mark communicates that representative samples of a product have undergone rigorous scientific testing to meet some of the world's most stringent chemical emissions requirements."
GreenGuard certified products are recognized, referenced, or preferred by more than 450 federal purchasers, retailers, green building rating tools, and building codes around the world.
Helping specification professionals simplify the volumes of product data and certifications, mindful Materials (mM) provides a common platform where manufacturers clearly communicate product transparency and optimization information.
Manufacturers that have clearly established supplier code of conduct and have adopted the International Chamber of Commerce (ICC) Business Charter for Sustainable Development ensure the component and material ingredient suppliers meet their standards. Manufacturers that carefully manage their supply chains also will be aware of their products' material ingredients including their recycled content.
Acoustic ceiling panels made from stone wool consist of a blend of naturally occurring, volcanic basalt rock and recycled content. The stone is a plentiful, natural resource and high-tech production processes allow for environmentally responsible, efficient product manufacturing. On average, ceiling products with a stone wool core contain up to 43 per cent recycled content. A metal ceiling system can be specified with up to 100 per cent recycled material content and is 100 per cent recyclable at the end of its useful life on a building. Stone wool may also be recycled.
Companies that publicly and regularly share sustainability reports also demonstrate their commitment to transparency and continued improvement.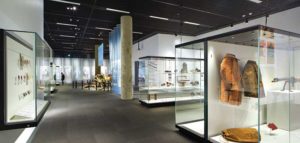 Healthy indoor air quality for all

Control the content you see on ConstructionCanada.net!
Learn More.