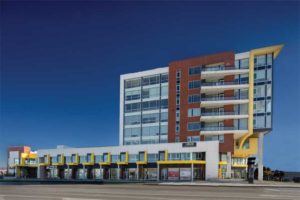 By Karine Galla
Desirable esthetics for the exterior of any building are often tied to the project's location, some buildings are background buildings, and some are built to be eye-catching. Some architects and building owners often rely on plaster to deliver traditional looks, and some find brick and wood to be more desirable and prevalent as the go-to material for a building's facade.
The common denominator, regardless of geography, in today's design paradigm is knowing one type of material is no longer good enough. Combining multiple esthetics is the standard rather than the exception. And since the days of monolithic design are long gone, architects are pushing the limits by integrating materials to create a modern, sophisticated look. At the same time, no designer can afford to sacrifice performance for an eye-catching look. Ever-evolving, stricter building codes, and heightened expectations from building owners now demand the right balance between beauty and durability.
How can designers, specifiers, and contractors capitalize on the growing trend of multiple esthetics for a building's exterior while ensuring the structural stability of its enclosure?
The connective tissue to solve this equation lies beneath what the eye can see. It is a singular, cohesive building envelope which relies on exterior continuous insulation (ci)—more commonly known as a EIFS (exterior insulation finish system) in Canada. Employing materials to work in concert with each other can deliver key value propositions, such as design freedom, long-term performance, potential cost savings, and peace of mind.
The control layers of a building
As architects consider what the building will look like, they must also ensure it will protect its inhabitants and maintain its integrity over the life of the structure.
The control layers of a building's exterior are built to repel natural forces such as rain, wind, heat, cold, ultraviolet (UV) rays, thermal movement, temperature changes, and remain intact for the life of the building. These control layers include:
A vapour retarder to minimize condensation by controlling the flow of a water vapour as it shifts from high to low pressure areas.
An air which reduces energy loss and condensation by limiting the uncontrolled flow of air through the wall assembly.
A water penetration barrier to prevent water from damaging the building structure.
A thermal barrier to mitigate energy loss designed to prevent thermal bridging.
A durable and water-shedding facade to protect against environmental elements, impacts, UV exposure, pollutants, and more.
A rain screen air pressurization layer, often located behind the water-shedding facade layer. Combined with a well installed air barrier, this helps prevent the capillary movement of water into a building.
The "pen test" can be applied to each control layer in the make-up of the exterior wall assembly. Each layer is assigned a colour code; for each layer, one line should be drawn which follows the layer across the detail of the wall assembly. Any time the pen lifts from the page, it highlights a loss of continuity. Any breaks in the air and moisture barrier can promote unwanted airflow, compromise in comfort for the people occupying the building, potential damage to materials from unwanted moisture build-up, and decreased energy efficiency.
Smartly engineered building enclosure systems contain all control layers in an integrated, tested assembly. When the first four layers, which are not visible, are planned as an integrated solution beneath the surface of the cladding, the individual layers work together to deliver a holistic approach. When acting as an integrated system, these four layers can also accommodate multiple facade options.

Control the content you see on ConstructionCanada.net!
Learn More.