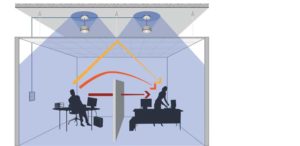 Standardizing sound masking
The importance of managing background sound levels using sound masking technology is now recognized in many standards, guidelines, and building codes, including:
Standards Australia/New Zealand (AS/NZS) 2107:2016, Acoustics, Recommended design sound levels and reverberation times for building interiors;
Canadian Standards Association (CSA) Z412-17, Office Ergonomics – an application standard for workplace ergonomics;
Facilities Guidelines Institute (FGI) documents such as Sound & Vibration (2010), FGI Guidelines for Design and Construction of Hospitals (2018), and FGI Guidelines for Design and Construction of Outpatient Facilities (2018);
General Services Administration's (GSA's) PBS-P100, Facilities Standards for the Public Buildings Service (2017);
Green Building Initiative's (GBI's) Green Globes for New Construction 2019;
U.S. Green Building Council's (USGBC's) Leadership in Energy and Environmental Design (LEED) v4.1 Building Design & Construction (BD+C) and Interior Design & Construction (ID+C);
International WELL Building Institute's (IWBI's) 2014 WELLv1 and 2018 WELLv2;
ASTM 1374-18e1, Standard Guide for Office Acoustics and Applicable ASTM Standards;
American National Standards Institute/Acoustical Society of America (ANSI/ASA) S12.70-2016, Criteria for Evaluating Speech Privacy in Healthcare Facilities; and
International Organization for Standardization (ISO) 3382-3, Acoustics – Measurement of room acoustic parameters – Part 3: open plan offices and ISO 22955, Acoustics – Acoustic quality of open office spaces.
However, many have yet to capitalize on the ways in which masking systems can be used as a tool in architectural design. For that reason, the strategies employed by two of these documents are worth further discussion.
Ensuring minimum background sound level
In closed rooms, speech privacy depends on the background sound at the listener's position being higher than the residual voice level penetrating the wall (for more information, read Niklas Moeller's "Mind the Gap: Using Sound Masking in Closed Spaces" in the October 2012 issue of Construction Canada). This point is highlighted in ASTM E2638, Standard Test Method for Objective Measurement of the Speech Privacy Provided by a Closed Room. Background noise is presumed to be due to building systems (i.e. HVAC) and is, therefore, highly variable. In the absence of continuous masking sound, the measurement—and, hence, any conclusion based on it—is valid only at the time it is done (in any case, the dBA levels produced by traditional HVAC varies and this equipment cannot generate a spectrum conducive to speech privacy).
To promote a more well-rounded design approach, AS/NZS 2107:2016 specifies criteria acknowledging several benefits of minimum background sound levels, including the 'insurance policy' it provides against loss of acoustic isolation and speech privacy. The document introduces guidance with regards to adequate level and spectrum for the built environment. While this standard specifically excludes setting performance guidelines for masking sound, it promotes sound masking systems as a possible solution building professionals may consider to ensure acoustical privacy and satisfaction.
Using a point-for-point exchange
An even more beneficial approach was proposed by renowned acoustician, William Cavanaugh, when he said, "an increase in the background sound level has the same effect on intelligibility as an increase in the transmission loss," (reference from Speech Privacy in Buildings [1962]). It is on this basis that Sound & Vibration 2.0: Design Guidelines for Health Care Facilities—the companion document to the FGI's 2018 Guidelines for Design and Construction of Hospitals and 2018 Guidelines for Design and Construction of Outpatient Facilities—allows for a point-for-point exchange in kind between the measure of isolation—the sound transmission class (STC)—and the background level (dBA) (for more information, read Niklas Moeller's "Placing Sound Masking on the Front Line of Acoustic Design" in the July 2017 issue of Construction Canada).
Historically, background sound levels were (and continue to be) not uniform in level and spectra, and highly variable over time and throughout the built environment. As a result, partition walls were often overbuilt in an effort to reduce the transmission of sound from source to receiver. Rather than employing effective controls for background sound, designers and engineers heavily overcompensated by using additional materials to provide greater isolation and absorption. This hyper-focused approach on objective components of acoustics consistently failed to appreciate the importance of human factors—namely that a space can be perceived as quiet.
It is in the consideration of the pseudo-subjective evaluation of acoustical privacy—estimating acoustical privacy of a space using a combination of objective metrics (i.e. measure of isolation and background sound)—that we have the opportunities to realize cost savings at the design stage of
a project.
Consider the following simplified scenario, which is intended to quickly illustrate the approach:
an enclosed room conforming to a field-tested STC-45 rating requires a 30 dBA background sound level for speech privacy; and
alternatively, if the background sound level is raised to a constant level of 35 dBA, the composite performance of the construction of the environment (walls, ceiling, floor) can be reduced to STC-40 rating.
A mere 5 STC points may not seem significant; however, the cost savings in terms of materials, labour, and time can be. Also, if one reduces the STC rating of the partition by five points and raises the controlled background sound levels by 10 dBA to a level of 40 dBA, acoustical privacy is more assured and the psychoacoustics of the space are improved.

Control the content you see on ConstructionCanada.net!
Learn More.