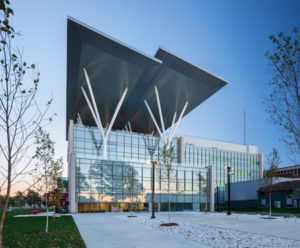 Students at Mohawk College's Fennel Campus in Hamilton were welcomed back to school last fall with an 8919-m2 (96,000-sf), solar-powered, and state-of-the-art research, learning, and lab facility. The Joyce Centre for Partnership and Innovation will also be the future home to the Centre for Climate Change Management, and will create a new paradigm for sustainable building and education in North America.
Designed by B+H in collaboration with mcCallumSather, the $54 million centre is Canada's largest, and the region's first, net zero institutional building. It is also the first out of 16 selected buildings in Canada to be completed under the Canada Green Building Council's (CaGBC's) new net zero carbon pilot program.
The design builds a culture of awareness where continuous performance feedback informs users about how much energy they are consuming. A living lab on sustainability in itself, students will be trained how to shift the way they consume energy when inside to help ensure the building meets its energy targets.
The themes of connectivity, interaction, and collaboration run throughout the design of the Joyce Centre's social learning environment. Enhancing the user experience, classrooms and laboratories are organized around a large central atrium that acts as a social activator and central hub. Laboratories and classrooms are flexible and modular, offering students the option to cluster into groups or work independently, as needed. The interior learning spaces are designed to evolve over time, in tune with advancing technology.