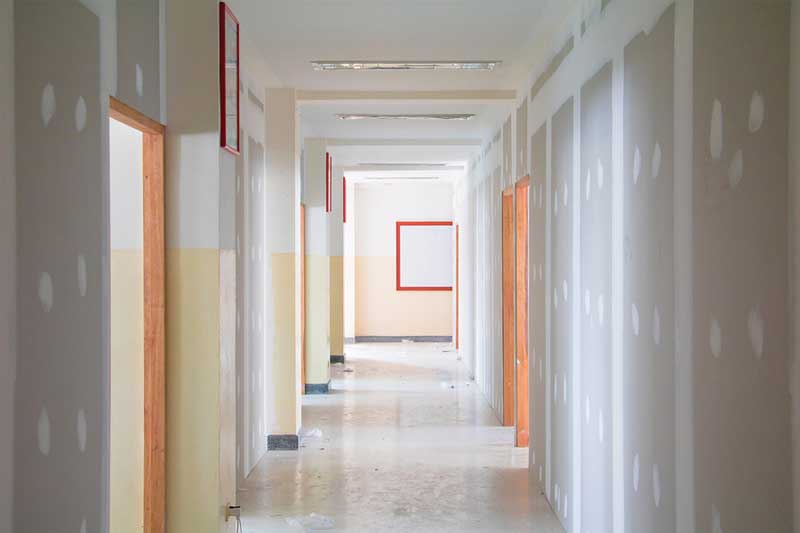 The UL Guide Info outlines instances when fire taping is acceptable and whether base layers in a multi-layer system need to be finished:
Except where specified otherwise under VI. WALLS AND PARTITIONS, and where otherwise specified in the individual designs, all gypsum board systems except those with predecorated or metal-covered surfaces have joints taped and joints and fastener heads covered with one coat of joint compound (fire taped). Base layers in multi-layer systems are not required to have joints or fastener heads taped or covered with joint compound.
The guide also discusses the requirement for hold-down clips in UL designs:
Designs incorporating lay-in acoustical ceiling panels specify the use of hold-down clips. Hold-down clips are required for assemblies incorporating ceiling panels weighing less than 1 lb. per square foot.
There is explanation of when and where insulation can be added to UL floor-ceiling and roof-ceiling designs (if not listed in the tested UL design):
Insulation in G500–, L500–, M500-, and P500-Series designs: for 1-hour-rated G500-, L500–, M500-, and P500–Series assemblies, fibreglass insulation, either loose-fill, or faced or unfaced batts or blankets may be added to the plenum or joist space above the gypsum board, provided an additional layer of gypsum board is added to the assembly.
The guide also provides explanation of cases when boards can be installed horizontally (perpendicular to wall framing) and whether or not staggering of joints is required in these instances:
Except when gypsum board is allowed to be applied horizontally in the individual wall design, horizontal butt joints of vertically-applied gypsum board should be backed by the same type studs as specified in the design.
Horizontal butt joints on opposite sides of the studs in single-layer applications should be staggered a minimum of 12 in. unless otherwise stated in the individual designs. Horizontal butt joints in adjacent layers on the same face of the assembly in multiple-layer applications should be staggered a minimum of 12 in. unless otherwise stated in the individual designs.
The UL guide can be referenced for clarification about the skim coating of gypsum panels and its effect on fire-resistance ratings:
Interior finish materials including paint and wall coverings less than 0.036 in. thick and applied directly to the surfaces of walls and ceilings may be added to the exposed surfaces of fire-resistance-rated assemblies without restriction.
It also expands on circumstances where joints in a board applied to wood or steel studs may be left unfinished. Assuming joints occur on framing and the partition is not part of a smoke or sound control system, it states "the joints in gypsum board applied to wood or steel studs may be left unfinished for that portion of the joint above a suspended ceiling which is part of a fire-resistive floor-ceiling or roof-ceiling assembly."
Additional, helpful material covered in the guide also includes:
information about adding wood panels for bracing to a fire-rated gypsum board wall assembly; (Refer to the section titled "Wood Structural Panels" in the guide.)
examples of various acceptable ceiling control joints for G500–, L500-, and M500–Series floor-ceiling designs;
information about air ducts and protection systems (useful for designers and contractors); and
when and how to use metal outlet boxes. (The guide states: "Metallic boxes should not be installed on opposite side of walls or partitions of staggered stud construction unless wall-opening protective materials are installed with the metallic boxes in accordance with certification requirements for the protective materials.")
CATEGORIES OF GYPSUM BOARD
Most gypsum board products fall into one of three general categories of fire resistance:
regular;
Type X; and
proprietary Type X (often referred to as Type C).
These three categories each provide different levels of fire resistance.
Regular and Type X board are described in ASTM C1396, Standard Specification for Gypsum Board. Where fire-resistive performance is required, either a Type X board or a proprietary product is typically specified.
Type X gypsum board is defined as:
gypsum board that provides not less than a 1.hr fire-resistance rating for boards 5⁄8 in. thick and not less than 3⁄4 hr. fire-resistance rating for boards ½ in. thick when applied parallel with and on each side of load-bearing 2 by 4 wood studs spaced 16 in. oc applied with 6d-coated nails spaced 7 in. oc and with joints staggered 16 in. between sides when tested in accordance with ANSI/UL 263 [Standard for Fire Tests of Building Construction and Materials].
Proprietary Type C boards have a better fire performance achieved through the use of proprietary modifiers in the gypsum core which reduces shrinkage under fire conditions, thereby allowing the boards to remain attached to the structural element for a longer period of time. Since proprietary Type C boards have a better fire performance than Type X boards, they also meet the ASTM C1396 definition for Type X board.

Control the content you see on ConstructionCanada.net!
Learn More.