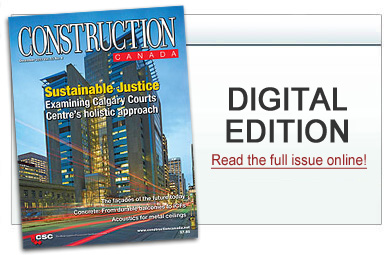 Concerns regarding the difference between 'testing' and 'listing' (or 'certifying') continue to be discussed and debated across Canada.

An oil and gas contractor in Alberta outgrew its facility and used metal building assemblies to design a new efficient warehouse to house its heavy-duty drilling equipment. Precision Completion and Production Services—known as Precision Drilling—of Red Deer, Alta., simply ran out of room. The contractor was involved in several months of preliminary discussions to develop a building plan.

This year, Canadians have seen some severe weather. Currently, Southern Alberta is still rebuilding after one of the worst floods in the province's history. High River, Canmore, and Calgary saw more than 100 mm (4 in.) of rain in less than 48 hours. A total of 32 states of emergency were declared, and communities were placed under evacuation orders. Damage included the Scotiabank Saddledome being submerged, Highway 1 was washed away, and entire towns were cut off by rising waters, along with mudslides.
---