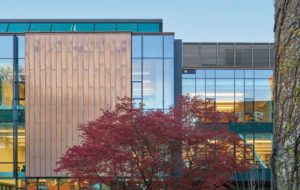 By Larry Peters
Havergal College is an independent, all-girls school. Established in 1894, the school was built on farmland, but today stands within Toronto's desirable Midtown area. A brook running through the centre of the 8.9-ha (22-acre) campus naturally separates it into two halves. On one side, the Upper School, finished in 1926, features buildings of limestone and leaded glass designed in the collegiate gothic style. On the other, the Lower School, opened in 1999, features contemporary elements of stone and timber.
Growing enrollment at the school offered opportunities to create more space and strengthen connections between the two areas. Architects Diamond Schmitt came on board to design an addition that would address "the unique topography of the ravine and woodland," but also integrate the school's "historic and contemporary architecture." Principal Sydney Browne described how they used copper "to pick up on elements from the original buildings and look back at the most beautiful elements of what was there to knit the new and old together."
Completed in late 2020, the new 2043 m2 (22,000-sf) facility features a variety of teaching, common, and studio spaces, along with a dramatic, three-storey bio-wall, green roof, and outdoor courtyards.1 The design team for the school's addition chose to establish "efficient narrow floorplates" that "provide extensive daylight and views," enclosed by a "new glass facade, [which was] punctuated by tall, perforated metal sunshade fins and articulated standing seam copper cladding."
The project's sustainability features helped it meet Toronto Green Standards (TGS) and achieve Leadership in Energy and Environmental Design (LEED) Gold certification. These features included:
An airtight building envelope with minimized thermal breaks.
Green roofs to reduce heat island effect and cool the roof itself.
Planned photovoltaic panels on roof of northeast clerestory.
Glulam structural elements for decking and for vertical timbers at the curtainwall.
Extensive use of wood, certified by the Forest Stewardship Council, in study spaces, handrails, doors, and casework.
Windows featuring insulated double-glazed units with low-e coating on surface #2, filled with 90 per cent argon gas.
Roller shades incorporated into all glazing to manage solar heat gain and glare.
Operable windows along east and north facades to reduce HVAC loads.
Bird-friendly ceramic frit patterns applied to the #3 glazing surface.
Stormwater collection system feeding into an on-site bioswale, removing debris and pollution.
Low-use water fixtures and irrigation systems.
Energy-efficient lighting and mechanical systems.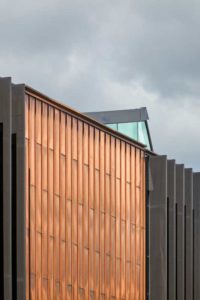 "Environmental responsibility is absolutely a design issue. Whether it's LEED or Toronto Green, these ideas are all connected," says Browne. "Energy modelling was at the core of our sustainability work. We also focused on a palette of natural materials," she added, "including timber elements for the structure, stone, felt for acoustics, plus the copper."
Havergal's leadership team and board of governors endorsed targeting LEED Gold early in the process, and the school's director of facilities, Lisa Massie, was a strong proponent of pursuing sustainability at all stages.

Control the content you see on ConstructionCanada.net!
Learn More.