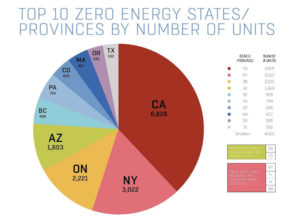 The market for residential zero-energy buildings grew 59 per cent across Canada and the United States last year, according to a new report.
The Zero Energy Residential Buildings Study released by Team Zero documents 22,146 units that are either in design, construction, or operation. These include single and multifamily projects that are working to achieve zero energy or zero energy-ready performance.
This study, now in its fourth year, works to answer questions about the viability of zero-energy homes in different markets, climates, and political jurisdictions. Team Zero is a coalition of organizations, manufacturers, and others working to grow the market share of zero energy and zero energy-ready homes and commercial buildings.
Other findings of the study include:
larger multifamily buildings are increasingly dominating the zero-energy housing stock;
more projects are seeking zero-energy performance with integrated renewables;
California is leading in the number of projects (6828) with New York in second place (3022);
in Canada, there was a 240 per cent increase in the number of zero-energy units over 2017;
multifamily projects now represent 71 percent of the total zero energy residential stock;
in Canada, multifamily is even more dominant than in the United States, with 90 per cent of its zero-energy units in multifamily projects, versus 67 per cent in the United States; and
future trends to watch that were spotlighted in Team Zero's findings include community micro-grids, electrification, grid integration and harmonization, and zero carbon.