Zaha Hadid-designed Qatar stadium resembles the pleats of a ship's sail
by sadia_badhon | June 10, 2019 4:48 pm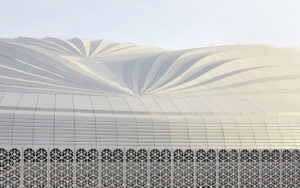 The Al Janoub Stadium in Al Wakrah, Qatar, designed by Zaha Hadid Architects[2] with engineering firm Aecom[3], incorporates cultural references to the city in an abstract manner and combines them with practical responses to the climate, context, and the functional requirements of a football stadium.
The client wanted a 40,000-seat stadium for the 2022 FIFA World Cup that could be reduced to a 20,000-seat capacity in its legacy mode following the tournament. Temporary seats were designed to be demountable and transportable to a developing country in need of sporting infrastructure for post-tournament usage. Further accommodations, such as concessions required for the additional capacity of the FIFA World Cup, has been built as a temporary overlay outside the permanent footprint and enclosure of the stadium.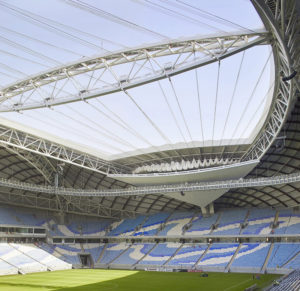 [4]The stadium has an operable roof designed by Schlaich Bergermann Partner[5] and a seating bowl cooling system that ensures it can be used during Qatar's summer months. The operable roof has been designed with pleated polytetrafluoroethylene (PTFE) fabric and cables. When deployed, the roof operates like a sail to cover the oculus above the field and creates a sheltered environment. Passive design principles along with computer modelling and wind tunnel tests were used to maximize the effectiveness of the physical enclosure to ensure player and spectator comfort.
Given the stadium's context within the coastal city of Al Wakrah, the client asked that its design reflect the maritime traditions and history of the location, in particular, the dhow, the traditional boat of the region.
The stadium's roof is inspired by the hulls of dhows turned upside-down and huddled. This is expressed in the stadium's envelope geometry, details, and selected materiality, including the roof's beam structure that echoes the interior structure of a dhow's hull. The façades of the stadium are slanted outward, tapered in elevation and reminiscent of the pleating of a dhow's sails. This is emphasized through the large overhang of the stadium's eaves that incorporate strips of metal cladding reminiscent of the timber structures used in a dhow.
The stadium's opaque roof and wall areas are expressed as pleated cross sections. This feature, which has its origins in Arabic motifs and calligraphy, adds texture to the outer shell and also emphasizes the stadium's geometry.
The colour scheme for the external building envelope dovetails with its geometric forms and reinforces the articulation of the outer skin. The roof cladding and opaque surface areas above the eaves are white or off-white in colour with a gloss surface finish reminiscent of seashells and emphasizes the pleats that add texture to the building envelope. The embossed eaves and the lattice screen print of the glazed lower-level façades are metallic bronze in colour, adding a sense of richness and depth to the design. The choice of a bronze metallic finish of these worked surfaces pays homage to the traditions and artistry of Islamic craftsmanship.
Endnotes:
[Image]: https://www.constructioncanada.net/wp-content/uploads/2019/06/Opener-3.jpg
Zaha Hadid Architects: https://www.zaha-hadid.com/
Aecom: https://www.aecom.com/
[Image]: https://www.constructioncanada.net/wp-content/uploads/2019/06/Opener2.jpg
Schlaich Bergermann Partner: https://www.sbp.de/en/
Source URL: https://www.constructioncanada.net/zaha-hadid-designed-qatar-stadium-resembles-the-pleats-of-a-ships-sail/
---