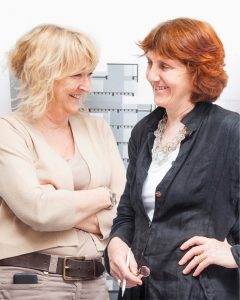 Yvonne Farrell and Shelley McNamara of Dublin, Ireland, have been selected as the 2020 Pritzker Prize Laureates, known internationally as architecture's highest honour. Farrell and McNamara are the 47th and 48th laureates of the prize, and the first recipients from Ireland.
"Architecture could be described as one of the most complex and important cultural activities on the planet," said Farrell. "To be an architect is an enormous privilege. To win this prize is a wonderful endorsement of our belief in architecture. Thank you for this great honour."
As architects and educators since the 1970s, Farrell and McNamara create spaces that are at once respectful and new, honouring history while demonstrating a mastery of the urban environment and craft of construction. Balancing strength and delicacy, and upholding a reverence of site-specific contexts, their academic, civic, and cultural institutions, as well as housing developments, result in modern and impactful works that never repeat or imitate, but are decidedly of their own architectural voice.
"For their integrity in their approach to both their buildings, as well as the way they conduct their practice, their belief in collaboration, their generosity toward their colleagues, especially as evidenced in such events as the 2018 Venice Biennale, their unceasing commitment to excellence in architecture, their responsible attitude toward the environment, their ability to be cosmopolitan while embracing the uniqueness of each place in which they work, for all these reasons and more, Yvonne Farrell and Shelley McNamara are awarded the 2020 Pritzker Architecture Prize," said the jury.
The pair established Grafton Architects in Dublin in 1978, where they continue to practice and reside. In just over 40 years, they have completed nearly as many projects, located in Ireland, the United Kingdom, France, Italy, and Peru.