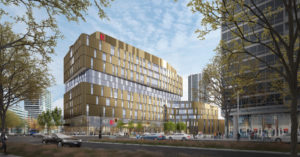 Construction of York University's Markham Centre Campus formally began with a groundbreaking event at the site for the $275.5-million project in Markham, Ont., and is expected to open in fall 2023.
The Ontario government announced its approval for the project in late July and site preparation work began immediately for the new campus, which will offer up to 4200 students in the first phase a range of professionally relevant degree programs and micro-credentials.
York Region is projected to have the highest growth rate in the province in the 18- to 22-year-old population, increasing by 34 per cent by 2041, so Markham Centre Campus will offer students a university education close to home with work integrated learning opportunities in their communities.
"Through the new Markham Centre Campus, York University will be helping meet the future needs of York Region by offering innovative new programs, work-integrated learning, and community-engaged research," said Rhonda L. Lenton, president of York University. "By creating new opportunities for higher learning and entrepreneurship in the heart of one of Canada's fastest-growing regions, the new campus will continue York's longstanding role in building more prosperous, inclusive, and resilient communities."
The 10-storey, 37,160-m2 (400,000-sf) campus building was designed by Diamond Schmitt Architects. Construction manager on the project is Stuart Olson. The built form will be a five-storey podium with a five-storey tower above, clad in bronze-anodized aluminum, with welcoming and flexible indoor spaces, and sloping green areas called 'Campus Green' for outdoor gatherings.
Milestones during construction include:
the enabling works—excavation, piles, and shoring—begin immediately;
construction of the building's foundation and superstructure starts in December 2021;
building will be closed-in during spring 2022; and
completion and move-in is scheduled for August 2023.