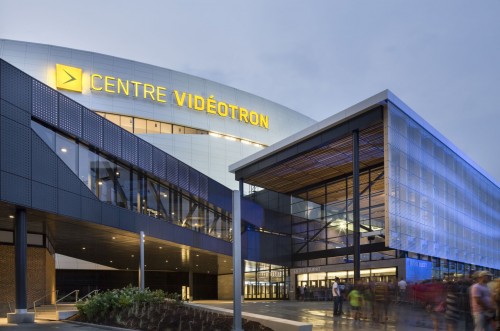 By Sjoerd Bos
Created by the Integrated Team SAGP (a consortium comprising ABCP architecture, GLCRM, Populous, and SNC Lavalin), the Vidéotron Centre is a multi-use indoor arena in Québec City—the biggest public investment in the city's history.
Occupying approximately 64,000 m2 (689,000 sf) of space and with a capacity of 18,482 spectators for hockey (and 20,396 for non-sporting events), it has a dual-structural system consisting of ductile concrete walls and a steel frame. Wood plays an important role not only in the arena's sustainability, but also in its structural integrity, performance, and beauty.
Opened in September 2015, the $370-million, seven-storey arena will mainly be used for ice hockey, other indoor sports, and music concerts, although it is hoped the sleek, new, state-of-the-art venue can also help boost the city's chances for a future NHL team. The project fits into the city's strategy of building sustainability projects—its developers want to achieve Silver under the Leadership in Energy and Environmental Design (LEED) rating program.
ABCP Architecture is a firm internationally known for its sustainable design. Its CEO, Francois Moreau, explained his vision for the arena.
"Inspired by winter, the white aluminum oval of the Vidéotron Centre stands out in the urban landscape with its variable architectural treatment evoking drifts of snow. The geometry of the wood structure that supports the outer wall and is exposed in the open concourses recalls the shape of a hockey stick," he said. "Meanwhile, the rectangular shape of the entrance blends the building into the urban landscape, highlighting its ultimate function as a public venue."
The amphitheatre façade serves as a second skin for bioclimatic purposes and represents the icy water of the St. Lawrence River. It is supported by a wood structure.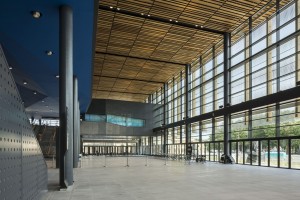 "The number-one motivation for using wood in the arena was to give the building a distinctive local signature and foster the quality of the interior spaces," Moreau explained. "However, given the structural capacity and fast construction time required for of this type of building, wood also proved to be an economical choice. The environmental benefits of wood were another reason for choosing this material."
These benefits have implications for other building designs. Moreau explained that although many materials such as concrete and steel are recyclable, wood is the only renewable building material and takes very little energy to harvest and process compared to other materials. Proximity to a plentiful supply, such as in the case of the arena's location, reduces shipping costs and helps local employment. Additionally, wood timber is a carbon sink—a natural reservoir that accumulates and stores carbon dioxide. Every cubic metre of wood used can offset one tonne of greenhouse gas (GHG) emissions.
The need for proper protection to maintain the durability and esthetic performance of wood in building construction cannot be overstated. At the Québec City site, for example, environmental conditions can be daunting, with long periods of cold from the arctic air. High-performance, water-borne, environmentally responsible wood finishes were used, some prior to construction. The finishes were selected to complement the coloration of the wood and were recommended by Cecobois, a regional program of the Québec Forest Industry Council, with a goal of supporting innovation and providing leadership on the use of wood and wood products.
The arena's design is part of a growing trend in building design, as increasingly wood is becoming the logical choice for large structures. Beyond esthetic and environmental considerations, wood structures are now becoming very competitive options. For one, wood has virtually infinite building possibilities given its ability to be shaped into curves.
"Architects and engineers are starting to see the full potential of wood as evidenced by media coverage in many local and international publications," said Moreau. "However, despite these efforts, certain prejudices remain, and many buildings that could benefit from the use of wood do not."
Moreau believes it is the responsibility of design/construction professionals to educate their clients of the myriad possibilities wood has to offer. Indeed, the developers' trust in a wood design demonstrates their foresight and stands as a world-class example for building structures of all sizes, shapes and functions.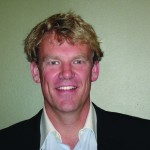 Sjoerd Bos is vice-president of The Sansin Corporation, a wood protection company focused on water-borne interior and exterior technologies. Its finishes and stains were selected to protect and beautify the wood construction of the Vidéotron Centre. With 25 years of industry experience and a background in business, Bos leads Sansin's sales and marketing efforts while also working alongside the company's research and development team.

Control the content you see on ConstructionCanada.net!
Learn More.