By Randy Clark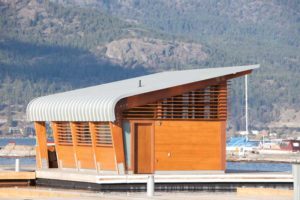 Wood use in buildings dates as far back as the Stone Age. In 9000 BC, the Neolithic Long House, a timber home in Britain, was one of the largest structures in the world. Since then, and through several ears, wood has been used in a variety of buildings. Even with the introduction of other materials, wood is still one of the most important and viable options.
While wood is one of the most sustainable materials, it is susceptible to degradation if not treated to endure long-term exposure risks like harsh climate conditions and attacks by insects and fungus.
While people have been preserving wood since ancient times—soaking bridge timbers in olive oil or using tar for ships during the Roman age—the commercialization of treated wood began with the railway industry using creosote, a distillate of coal tar that has been in use for more than 150 years.
"Large-scale commercialization of wood preservation in North America was associated with the development of transportation and communication technologies in the 19th century," said Phil Evans, a professor of wood science at the University of British Columbia (UBC) in Vancouver. "At that time, railway companies were using untreated ties and having to replace them every five or so years."
Using a wood preservative extended the life of the ties, reducing labour and material costs and the destruction of natural forests.
Types of wood modification
Modern times have brought advances in wood preservation in the form of modification processes, such as heat, densification, and polymer treatments, which are used to control its degradation and improve its ability to resist water, swelling, and biological agents like bugs and fungi. These processes do not use biocides.
Wood modification treatments using heat or non-biocidal chemicals have been researched for more than 100 years, but have only been on the commercial market for the last 15.
Thermally modified wood
"The concept of thermally modified wood dates back to 1915 as a result of research at the United States Forest Products Lab (FPL), but the process was first commercialized in the last decades of the 20th century in Finland," said Evans.
Thermal modification involves heating the wood to a high temperature, up to 190 to 210 C (374 to 410 F), in a kiln under controlled conditions. The heat degrades the hygroscopic components of the wood, making it less susceptible to reabsorption of moisture and decay, and offers dimensional stability. Oxygen can be excluded from the process to reduce oxidation of the wood. Chemicals and pressure are not involved with this method; only heat and water vapour.
There are two process options for thermal modification of softwoods (e.g. pines) involving different temperatures: 190 or 212 C (374 or 414 F), depending on the end use of the thermally modified wood. Regardless, the process turns the wood to a darker brown and leaves a burnt odour.
Thermally modified wood is used indoors and for above-ground applications such as decking, exterior siding, fences, furniture, panelling, and pallets. It is not resistant to termites and cannot be used for ground contact applications.

Control the content you see on ConstructionCanada.net!
Learn More.