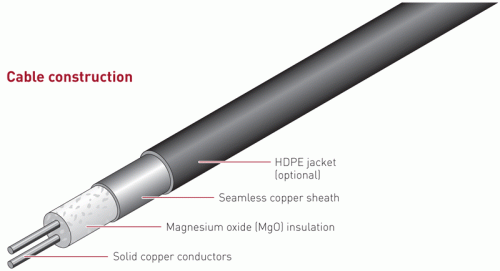 By Rick Florio
The new Women's Hospital in Winnipeg is part of the city's Health Sciences Centre, the area's largest hospital, which also serves residents of northwest Ontario and Nunavut. Construction on the hospital began in 2011, with the new state-of-the-art facility expected to open this fall after a total investment of $235 million. At over 27,870 m2 (300,000 sf), the new hospital will be more than three times the size of the current Women's Pavilion.
During construction, the hospital required a specialized electrical cable solution to ensure its critical life-safety systems and medical equipment would remain operational in the event of a fire. Designers chose a two-hour fire-rated, mineral insulated (MI) wiring cable. More than 50 km (31 mi) of the cable were installed on the project to meet code requirements and ensure life safety, even in an emergency. Specifically designed to maintain their integrity when subjected to fire, MI cables ensure emergency electrical power is available for a wide range of systems, such as fire pumps, emergency generators, smoke management systems, fire alarms, lighting, and communications equipment.
One of the main concerns of a hospital is the safety of its patients and staff. The new facility required a two-hour fire-rated cable with long-lasting integrity to provide ample evacuation time and additional time for firefighters entering the burning building. These MI cables were a suitable choice as their performance, ease of installation, and compliance met the high demands of the hospital for life safety systems and provides the necessary protection of critical processes and systems.
Cable composition
Constructed with a copper sheath, magnesium oxide (MgO) insulation, and solid copper conductors allowing continuous exposure temperatures to 250 C (482 F) and 'excursions' to 1010 C (1850 F), the cables meet full circuit integrity for over two hours. An optional low-smoke zero-halogen (LSZH) jacket provides additional protection where corrosives may be present.
The cables needed to withstand UL 2196, Standard for Tests for Fire Resistive Cables and operate continuously at 250 C. The code stipulates a reliable source of power is required to operate all critical life safety circuits to provide time for a safe evacuation of building occupants and to allow emergency crews to effectively control the fire. Fire-resistance ratings for cables installed in critical life safety circuits have one- or two-hour requirements, depending on national and local codes, the type of circuit, and the environment.
Some MI cables are manufactured using inorganic materials, copper, and magnesium oxide. This construction is inherently tough, yet allows the cable to be bent and molded to fit into tight spaces. Additionally, the inorganic construction of unjacketed MI cable allows for an environmentally 'clean' electrical cable that does not burn, produce smoke, or add fuel when exposed to fire conditions. MI cables have a tough seamless copper metal sheath that allows them to withstand any high impact from falling debris during a fire and remain fully functional. During emergencies, they can still use the power from their original circuits and maintain critical equipment.
Cable installation
Common electrical cables become brittle at low temperatures, so a minimum installation temperature of –10 C (14 F) is recommended for standard cables to allow for a considerable degree of rough handling. However, bare MI cable may be installed at a temperature as low as –40 C (–40 F). Small-diameter MI cables may be installed by hand, but it is recommended that large-diameter MI cables should be installed using mechanical pulling equipment to provide a steady continuous pull on the cable.
During installation, all safety and standard cable installation guidelines apply. Where independent circuits are required, correct separation and segregation should be maintained from other electrical circuits. All conductors must be contained within the same cable tray or bundled with the cables within a trapeze system or equivalent, unless otherwise permitted in accordance with the Canadian Electric Code (CEC).
The metal components and cable sheath must be composed of materials suitable for the environment they are to be installed. For example, the copper sheath must be covered with a polymer jacket for installation in concrete encasement. Metal supports, cable sheath, and other metal enclosures for the cables must be metallically joined together and connected to all boxes, fittings, and cabinets to provide effective electrical continuity. Installers also need to take into consideration the magnesium oxide insulation of MI cable absorbs moisture when exposed to air, causing the insulation resistance to fall.
Conclusion
It is imperative for specifiers to install the proper cables within healthcare facilities to maintain facility operations—even in the unfortunate event of a fire. MI cables are an excellent solution to many of the dangers resulting from a fire, such as falling objects, extreme heat, and loss of regular power.
Rick Florio is a Ryerson University graduate with a degree in electrical engineering and a sales manager at Pentair Thermal Management. He has been a member of Canadian Fire Alarm Association (CFAA) for 20 years and has spent four on its board of directors. Florio is a member of CSA's C-282 Emergency Power Supply for Buildings Committee and Society of Fire Protection Engineers (SFPE) Ontario Chapter. He has served as president of the Canadian Fire Safety Association (CFSA), including several terms on Ontario Building Code (OBC) Commission, a decade representing CFSA on ULC S-500, and several terms on the City of Toronto's Committee of Adjustment. He can be reached at rick.florio@pentair.com. 

Control the content you see on ConstructionCanada.net!
Learn More.