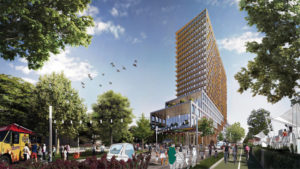 The Demain Montréal project wins the Reinventing Cities competition by C40 Cities Climate Leadership Group. The competition asks local innovators to transform underutilized urban spaces in their communities into carbon neutral and resilient urban projects.
Designed by Gensler Architecture and ACDF Architecture, Demain Montréal seeks to transform a 9000-m2 (96,875-sf) municipal works service yard into a sustainable and resilient community.
The proposal is for a wood highrise with 250 mixed-income housing units and co-working spaces. The complex will be 20 storeys high, with a six-storey section, reports the Montreal Gazette.
At the core of the project, Le Souk will be a place dedicated to circular economy. It will include a fablab, zero-waste grocery store and restaurants, and educational services promoting ecological behaviour. The project will also offer an urban forest, an orchard, and an aeroponic farm for local food production.
Key components and solutions include:
a carbon-positive objective based on both a reduction of the embodied carbon of the building and a strategy to capture carbon during the operational phase;
using 100 per cent renewable energy and renewable construction materials including wood;
a 75 per cent increase in the vegetation cover of the site;
onsite food production of 423,200 kg (932,997 lb) from the orchard and the aeroponic farm; and
community engagement strategy at each stage of the project.