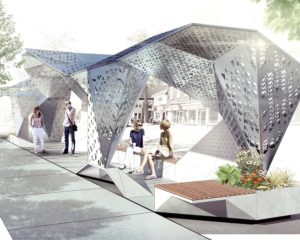 Constellations and the Sans détour projects are the winners of the design competition "Architecture and community commitment: A tale of aluminum," organized by the Centre d'expertise sur l'aluminium (CeAl) and Alcoa Innovation.
The Grand Prize was awarded to Groupe A/Annexe U for "Constellations," a dynamic public space concept. The prize comes with a cash award of $15,000.
Erected in former parking lots or set up adjacent to public venues, Constellations are covered spaces for hosting social, cultural, and sporting activities. Each unit employs two large sheets of anodized aluminum that unfold to create a shelter. The first forms seating and the enclosure proper, while the second—boasting a bright, gloss finish—floats above the space and folds down to settle at ground level. Perforated by hundreds of triangular openings, the aluminum canopy provides an interplay of light and shadow.
In the opinion of the judges, the project best articulated the notion of the discriminating use of aluminum in sustainable, mobile or permanent architectural spaces less than 120 m2 (1292 sf) in area.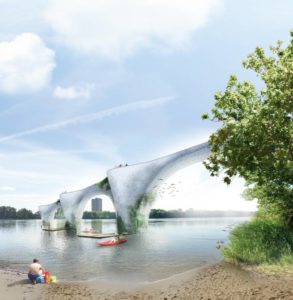 "This project makes brilliant use of the properties and potential of aluminum. Once set up, the structures would bring public spaces to life. What is more, they are readily adaptable to venue specifics and can be produced in limited quantities," said Ron Rayside, the panel chair.
The People's Choice Award went to Sans détour, a bridge concept designed to enhance oneness of community, and imagined by ADHOC Architectes. The prize carries a cash award of $10,000. Constructed entirely of aluminum, the bridge would present a changing portrait based on the time of day: translucent at sunset and more opaque at midday. Features include a helicoidal staircase descending to the water and panoramic overlooks.
Launched last November in co-operation with Association des Architectes en pratique privée du Québec (AAPPQ) and backed by funding from the Ministry of Economy, Science and Innovation (MESI), the competition promotes the innovative use of aluminum in the building sector.