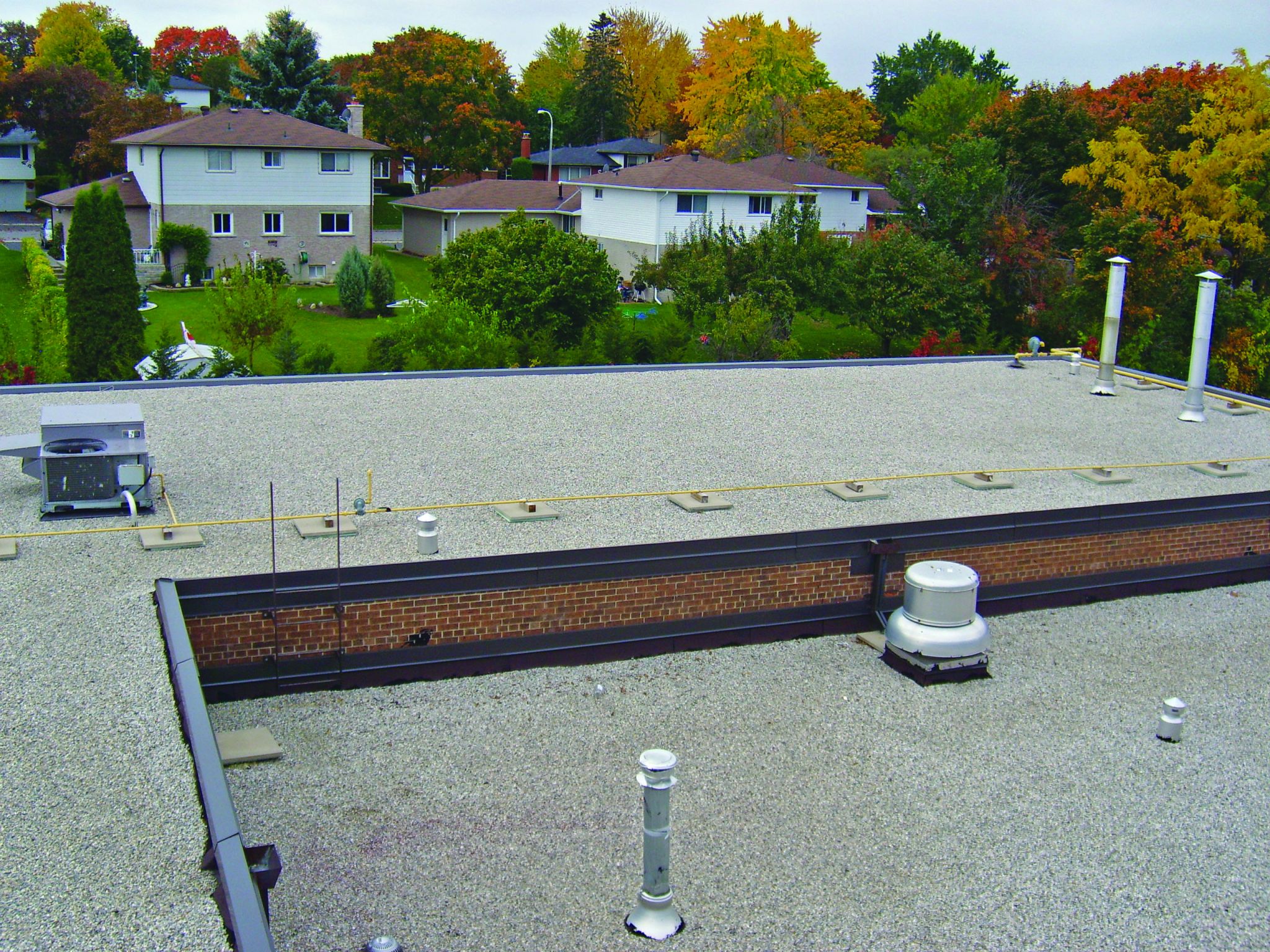 By Dan Fernandez
When building owners and facility managers review roofing options, there are many things to consider including performance, maintenance, weather-resistance, long-term cost, and energy efficiency. Choosing an appropriate roofing material has extended consequences. Today, manufacturers are making better and more versatile asphalt roofing systems for low-slope applications suitable for commercial, industrial, and institutional buildings.
With the addition of polymers that add stretch and strength, a commercial, low-slope roof can be applied in multiple ways, including hot, cold, torch, or self-adhered, depending on the project's needs. Asphalt roofing products are affordable and reliable, and are also trusted to perform well against extreme weather conditions.
When choosing the right roofing system for a property, the following questions should be asked:
Will there be anything on the roof, such as a deck or storage?
What is the essential purpose for which the building is designed?
Are there specific maintenance requirements for the building's roof?
Asphalt roofing is the most commonly used material for low-slope systems for various reasons including:
cost-effectiveness;
ease of maintenance;
maximizing usable space to create room for amenities; and
protection from the elements.
Once the decision is made to use asphalt roofing, the next step is to determine whether a built-up roof (BUR) or modified bitumen (mod-bit) system is the better choice for the specific project.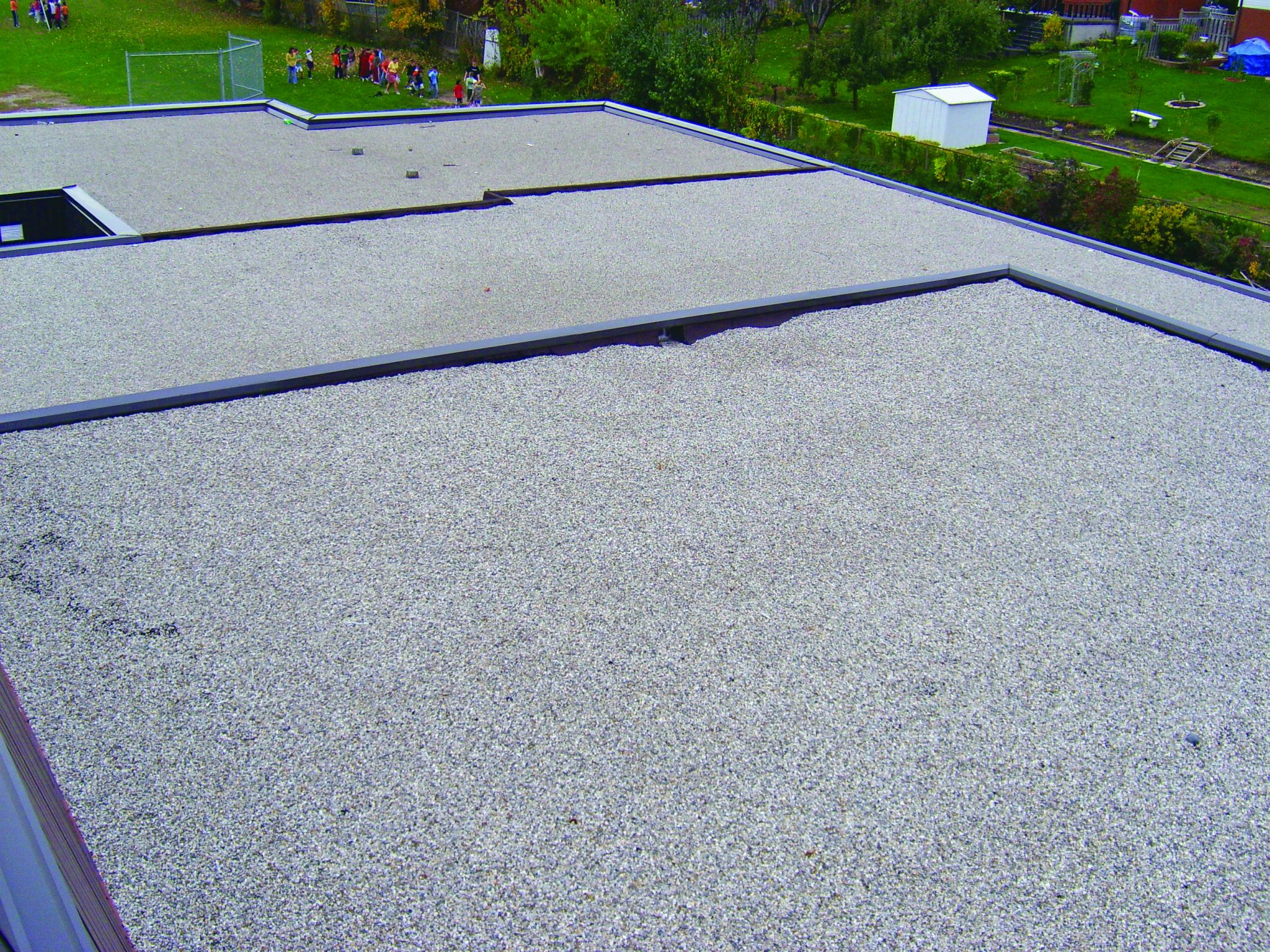 Multi-ply built-up roofing
BUR is a flat or low-sloped roof material consisting of multiple layers of asphalt and ply sheets. It is often called 'multi-ply BUR' because of the multiple layers of bitumen and ply sheets used.
BUR systems have a long track record of success and are widely popular. There are many 20-, 30-, and 40-year-old BUR roofs still in working condition.
While the essential element of a BUR system is the multiple layers of protection, there are many other components allowing this roofing system to function properly. They include:
roof deck: the structural surface to which the roofing or waterproofing system (including insulation) is applied;
vapour retarder: a material designed to impede the passage of water vapour into the roofing system; and
membrane: a roof covering or waterproofing layer whose primary function is the exclusion of water.
The multiple layers of a BUR system create a rigid and stable surface, making it more useful for mechanical systems, solar energy systems, vegetated roofs, or supporting roof decks than other roofing systems.
Installation
The components of a BUR system are typically assembled at the installation site, where the roof itself will actually be formed.
Roofing bitumen, a product of petroleum refining, is used as the primary adhesive and waterproofing agent between roofing plies. Typically, the bitumen arrives at the job site in a solid, compact form. When it is time for application, the bitumen is then heated and applied as a liquid.
The 'plies' themselves are roofing sheets or felts coated in asphalt and normally manufactured to standards such as ASTM D312, Standard Specification for Asphalt Used in Roofing. They are installed in plies of three or more to reinforce, strengthen, and stabilize the BUR's membrane. The multiple reinforcements of felts—flexible sheets manufactured by the interlocking of fibres through a combination of mechanical work, moisture, and heat—are what make the membrane pliable and resilient, while protecting the bitumen from water degradation and serving as a fire-retarding element.
To protect the BUR from solar radiation, there are numerous options that can be used. Gravel can be embedded into the bitumen, or a surface coating or granular-surfaced 'cap' sheet can be applied over the roofing material. Some choose to add light-coloured surfacing materials to better reflect heat off the building.
Pea-graveled BUR is highly flame-resistant. Its tough surface is also resistant to weathering and UV damage, which prevents premature aging to the bitumen membrane below the gravel.
It is important to note all safety, health, and environmental regulations, as well as building code requirements, must be followed during the installation process.
Ensuring protection for the roof and the workers
Buildings employing multi-ply BUR systems have added layers of protection, keeping the building contents secure and free from severe weather damage. The multiple layers of bitumen and bitumen-saturated felts create a watertight barrier for the roof, which can provide years of reliable protection from the elements. This benefit is even more pronounced in areas enduring harsh weather conditions, such as cold climates that face extreme snow and ice buildup.
BUR systems exhibit resistance to heat conduction between the exterior and interior of a building, resulting in noticeable reductions in heating and cooling costs. A BUR assembly generally incorporates insulation in the roofing system's design. It can boost the system's energy efficiency because of the multiple insulation layers.
Safety is the primary concern on all building projects. BUR systems are usually tested at either Underwriters Laboratory (UL) 790, Standard Test Methods for Fire Tests of Roof Coverings, or Factory Mutual Research Corporation (FM Global) to meet a separate set of approval standards, FM 4450, Class I Insulated Steel Deck Roofs, or FM 4470 Single-ply, Polymer-modified Bitumen Sheet, Built-up Roof and Liquid Applied Roof Assemblies for use in Class 1 and Non-combustible Roof Deck Construction.1 The first part of the approval standard consists of passing a stringent fire-resistance test, ASTM E108, Standard Test Methods for Fire Tests of Roof Coverings. For the second part, the system is tested to ensure there is uplift resistance under extreme wind conditions.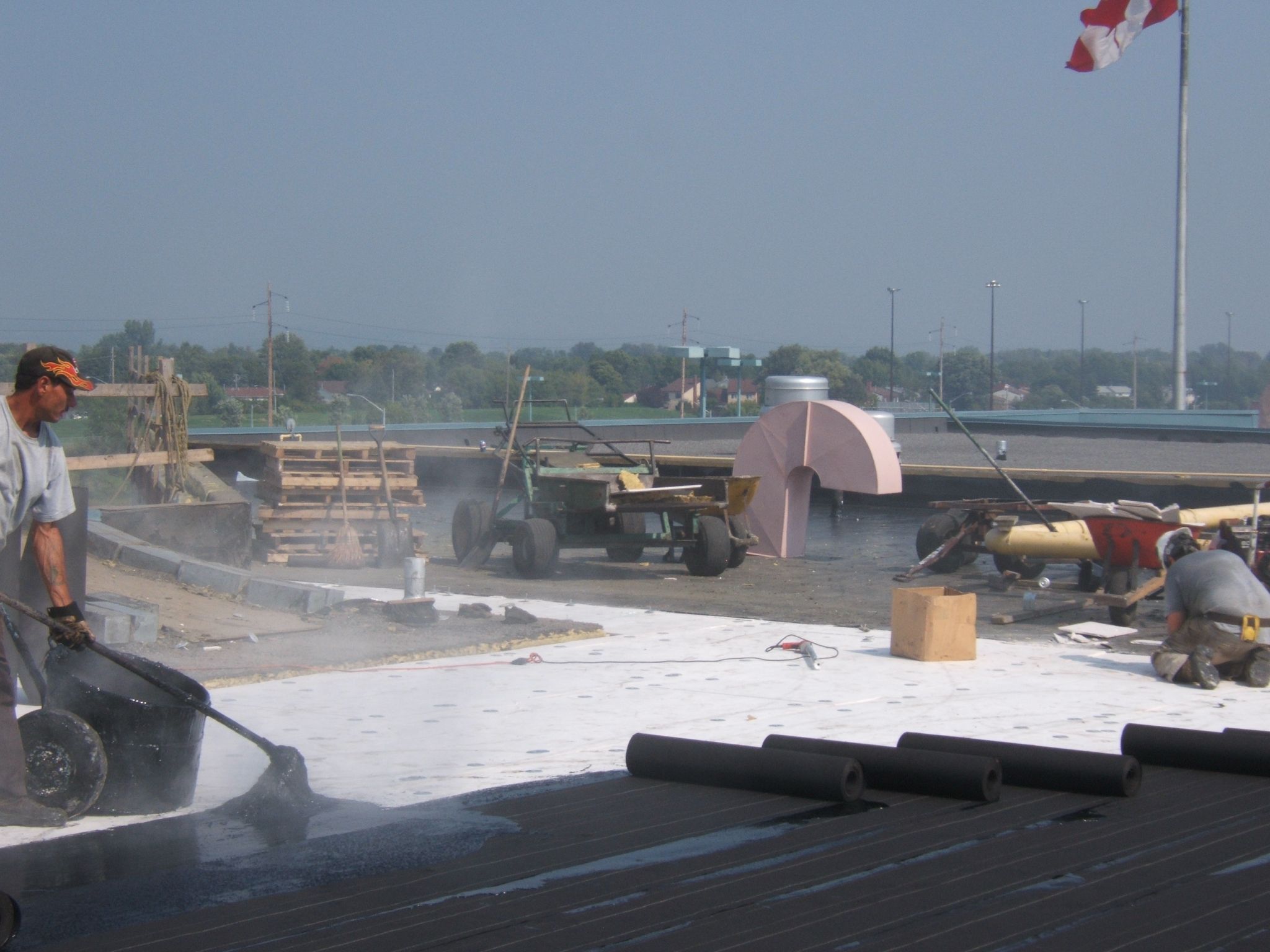 Modified-bitumen systems
Modified bitumen and modified-bitumen membranes (MBS) have been employed in the commercial building industry since the 1970s. Since then, use of MBS has steadily increased. In today's market, modified-bitumen membranes make up one of the fastest-growing product materials in the roofing sector.
Essentially, mod-bit is a variation of BUR. It is 'modified' because the asphalt has been blended with polymers—usually either atactic polypropylene (APP) or styrene butadiene styrene (SBS)—to improve the product's strength, flexibility, and solar resistance. The systems are best-suited for use on low-slope buildings.
Modified bitumen is considered a hybrid system of roofing because it provides the standard features of a BUR with the added tensile strength and elongation of the modified bitumen cap sheet.
The actual make-up and composition of a modified bitumen membrane includes the polymer-modified bitumen, which is reinforced with one or more plies of fabric such as polyester or fibreglass, and often both. When applied, the factory surfacing will often include mineral granules, slag, aluminum, or copper foil. Some mod-bit membranes are manufactured with a high-reflective white coating. The bitumen then determines the membrane's physical characteristics, provides primary waterproofing protection, and increases puncture resistance.
Production
Modified bitumen membranes are assembled in a factory and undergo a series of strict quality control standards. This testing ensures consistent thickness and uniform physical characteristics throughout the entire system. The finished roofing membrane generally consists of a two- to four-ply system, which entails a base sheet and bitumen membrane whereon additional plies can be added for strength if needed. The membrane substrate will often determine which ply system is best specified.
The complete roofing membrane will consist of one or more modified bitumen sheets. In other cases, the system can be made up of a combination of BUR felts, or additional mod-bit sheets. The type of substrate and the performance objectives influence the specification of the modified bitumen membrane system.
While there are MBS designed for almost every type of building, some of the most successful have been those created for commercial, low-slope roofing.
Installation
The actual application of a MBS is an involved construction process demanding the skillful arrangement of components, as specified. Since roof performance is in some ways predetermined by variables such as building design, job specifications, material quality, and maintenance, high-performance workmanship in the application process is crucial.
Installing a MBS is more art than science. The necessary craftsmanship often involves roofing professionals who may have a background in a wide range of systems, practices, and locations. This is why it is important to understand these critical factors, as they determine the roof's final quality, and can only be controlled with proper inspection and review, carried out through the manufacture and installation of the system.
As to the overall installation process, quality assurance provided by the in-plant fabrication can often mean reduced labour requirements—a net plus to all involved in the process.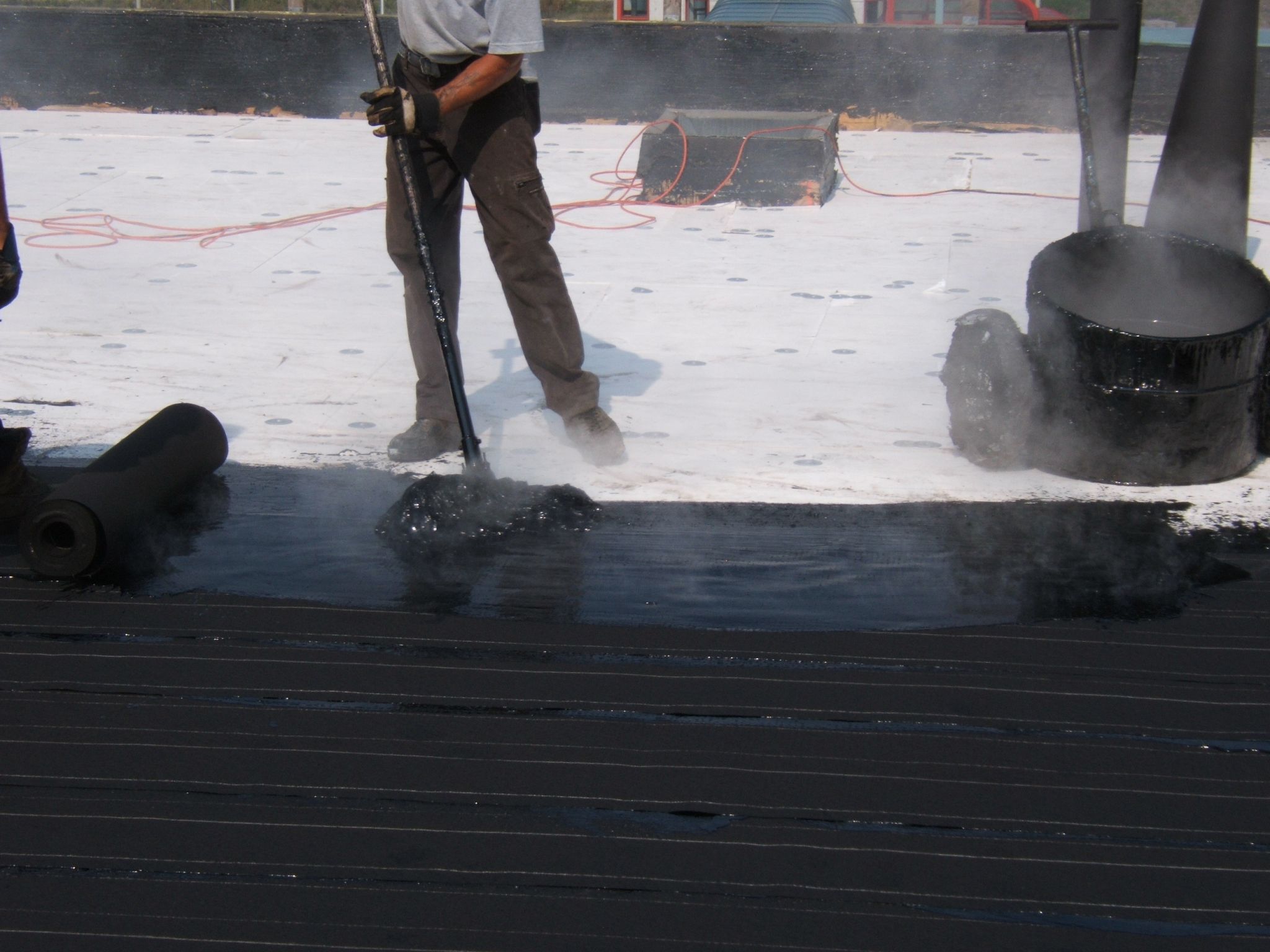 The advantage
Weather impacts a building's roofing system on a daily basis. However, asphaltic roofing is known for its ability to stand up to the elements, especially on buildings with low-slope roofing such as commercial, institutional, and educational facilities.
The risk of water ingress is reduced by the redundancy of multi-ply membranes. The same protection is not available in single-ply systems.
There is also the pressure put on commercial buildings from the facility's operation itself. Heating and cooling equipment which can require frequent access and repair, are often placed on a low-slope roof, which adds extra importance to the need for the protective and long-lasting benefits of asphalt roofing.
When a new roof was being selected for the U.S. National Oceanic and Atmospheric Administration (NOAA) building in La Jolla, California, the company turned to a BUR system.
The roof was required to host 800 stand-up solar panels, spread across 3613 m2 (38,900 sf) of roofing. It also needed to meet the stringent requirements of California Code of Regulations (CCR), Title 24. This required the system have redundancy and long-term performance. The BUR was able to provide a reflective, energy-efficient, compliant roofing system.
The final installation included a base, two plies, and a cap, providing the facility with the durability and longevity it needed to host the solar panels as well as a sound roofing surface.
A roof such as this needs continual checkups and must be regularly maintained to ensure the equipment on top is functioning properly. This made a BUR system a natural fit as it is resistant to wear and tear and can be used in various weather conditions.
A BUR's gravel coat must be well-maintained and inspected by the building owner to maximize its life expectancy. Gravel can be displaced by weather or walk paths, and extra material should be added where necessary.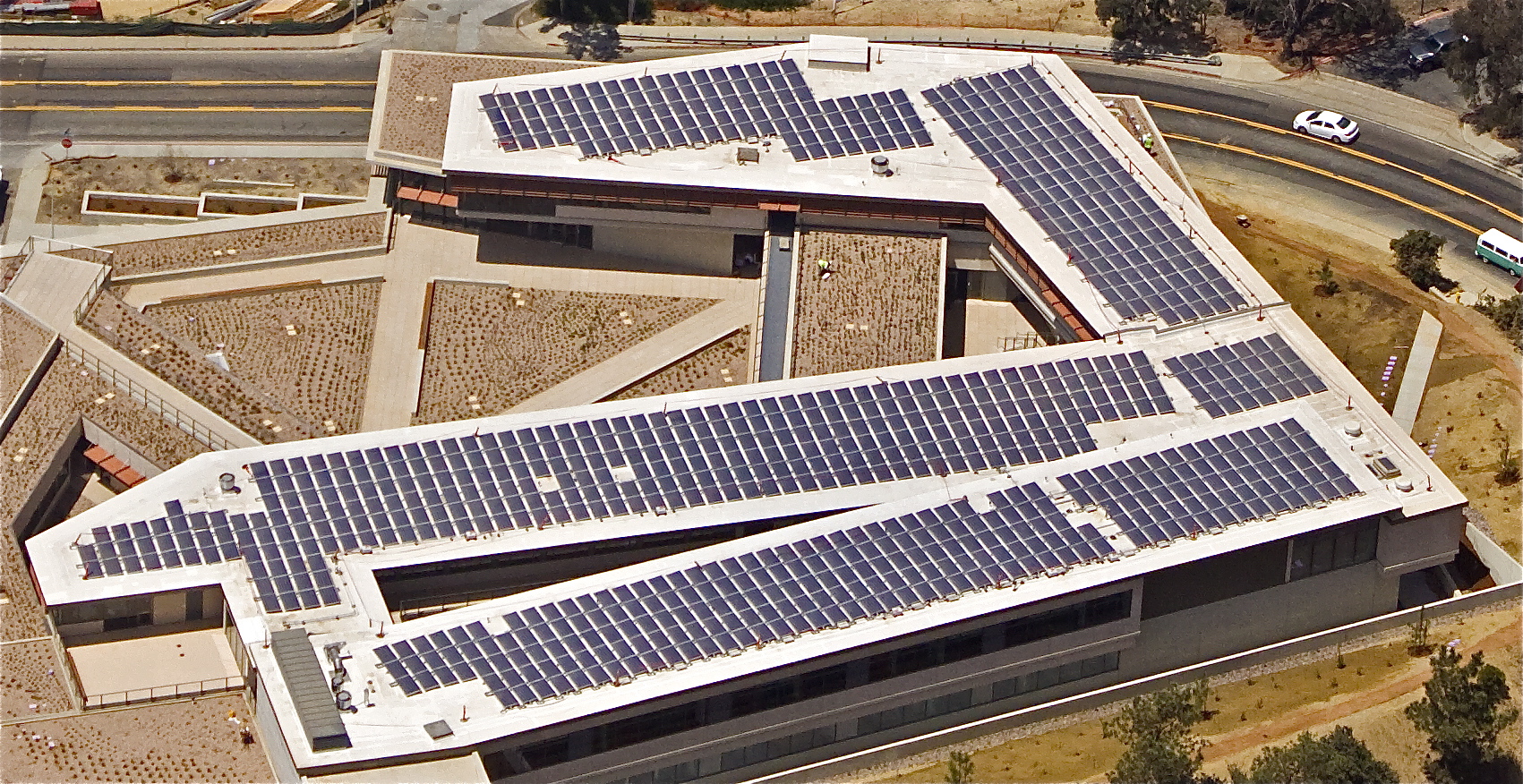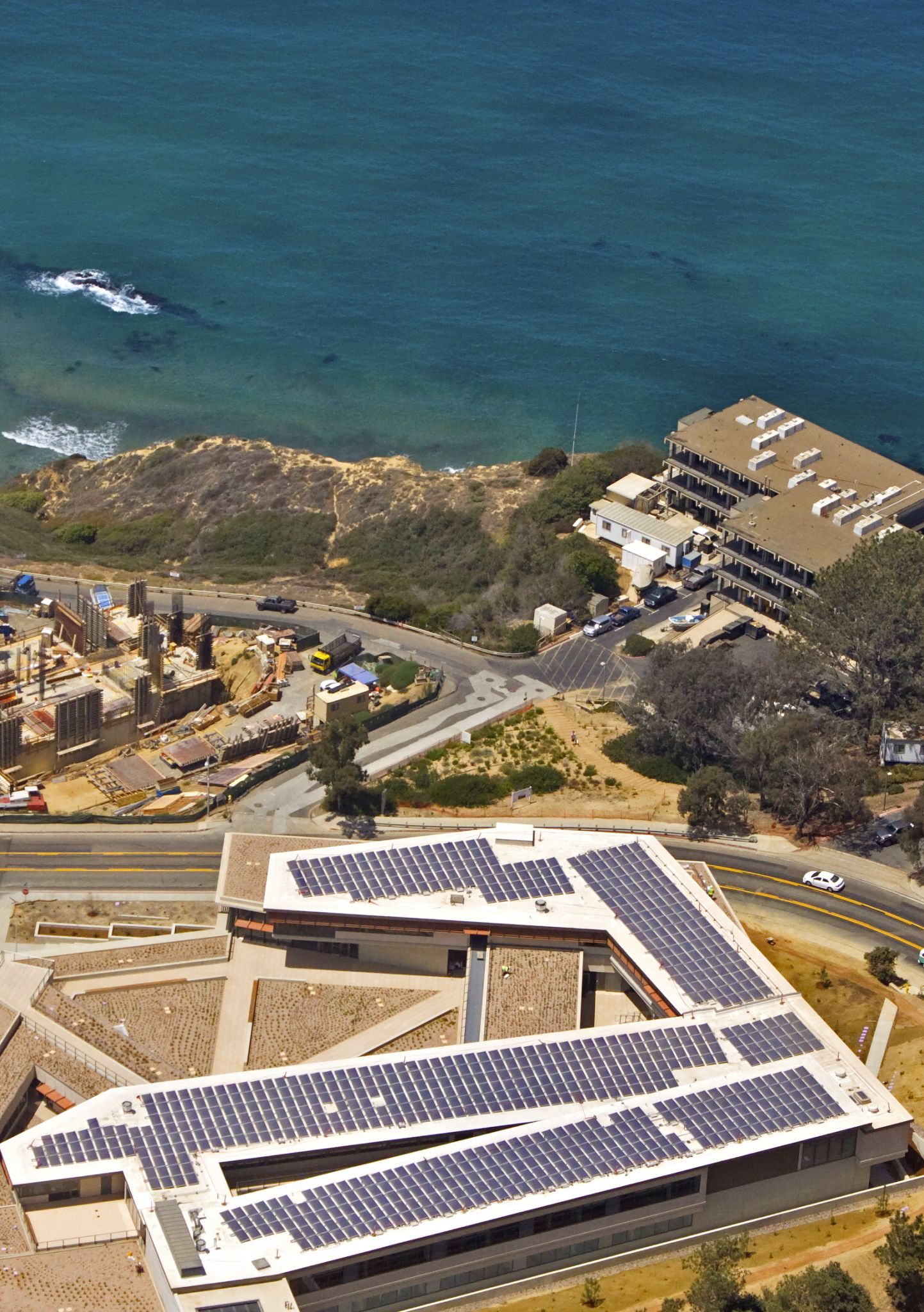 Conclusion
So how can a building owner or roofing contractor decide between BUR and a MBS?
Although BUR's installed cost may be higher when considering its thickness and number or plies, the overall cost per year is lower due to its longer life expectancy, which in many cases is up to 30 or 40 years.
Whatever the final decision turns out to be, a building owner can rely on asphalt roofing to give their building the long-lasting protection and performance they need, so that they can focus on the important work going on inside.
Notes
1 For more information on FM Standards, click here. (back to top)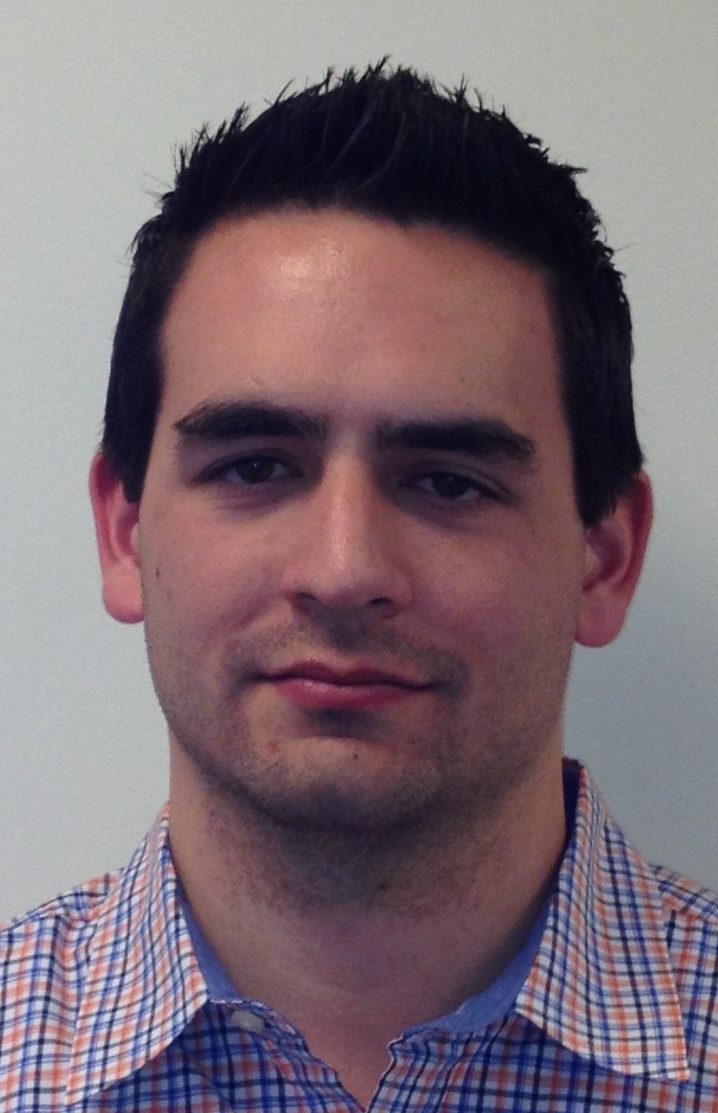 Dan Fernandez is the communications specialist for the Asphalt Roofing Manufacturers Association (ARMA,) the North American trade association representing the manufacturers and suppliers of various roofing products. He can be contacted via e-mail at dfernandez@kellencompany.com.

Control the content you see on ConstructionCanada.net!
Learn More.