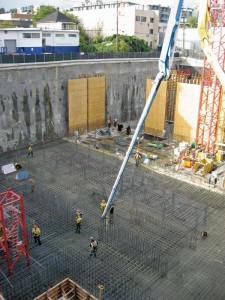 Testing methods
Various testing methods have been used to indicate the permeability of concrete. Perhaps the most often referenced being ASTM C1202, Standard Test Method for Electrical Indication of Concrete's Ability to Resist Chloride Ion Penetration, more commonly known as the rapid chloride permeability (RCP) test.
There is much debate over the value of this method; its accuracy is an issue, as results from identical test specimens are often found to vary greatly from each other. More importantly, the test does not actually measure permeability—it deals with electrical conductivity, and there are many factors influencing this attribute beside permeability. Other common test methods measure capillary absorption or wicking potential of concrete. These are useful for PRANs, but are inappropriate for PRAHs because they exert no hydrostatic pressure.
A suitable testing method for PRAHs must directly measure permeability of the concrete when it is subjected to hydrostatic pressure. Chapter 15 cites U.S. Army Corps of Engineers (USACE) CRD C48-92, Standard Test Method for Water Permeability of Concrete, and two nearly identical European tests that accomplish this goal:
Deutsches Institut für Normung (DIN) 1048-Part 5, Testing Concrete: Testing of Hardened Concrete (Specimens Prepared in Mould); and
British Standards (BS) EN 12390-8, Testing Hardened Concrete: Depth of Penetration of Water Under Pressure.
Each of these methods subject concrete specimens to water under pressure for a time. They measure the actual penetration and transport of water within the concrete matrix. Methods such as these come closest to replicating the actual service conditions of concrete in water-retaining structures in the field.
Practical application
Chapter 15 of the ACI report recommends using a permeability-reducing admixture in any concrete that will benefit from moisture protection. Choosing to specify a PRAN or PRAH depends on the presence or absence of hydrostatic pressure. PRANs are appropriate for applications where resistance to water and waterborne chemicals may be needed, but hydrostatic pressure is absent. Foundations in contact with damp soil, concrete masonry units (CMUs), and exposed slabs, columns, or beams are just a few examples.
Where resistance to water under hydrostatic pressure is required,
a PRAH must be used. Examples of these are:
foundations below the water table;
tunnels;
subways and other below-ground structures; and
water-retaining structures.
Where the application is critical, it may be worthwhile to include a PRAH instead of a PRAN even when hydrostatic pressure is not expected. Elevator pits are a good example of this.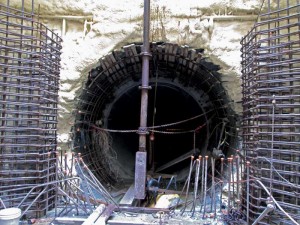 The final sections of Chapter 15 give advice for proportioning, batching, and quality control—much of which is good practice for most concrete work.
Conclusion
ACI-212's new Chapter 15 has given design/construction professionals several new tools. The identification and categorization of different materials shows not all permeability-reducing materials are the same. Its classification of various admixtures based on performance rather than chemistry has a more practical benefit. Chapter 15 also introduces new, descriptive, and much more precise language to employ in specifications. The Portland Cement Association (PCA) has already adopted this new language and included PRAN and PRAH in its book, Design and Control of Concrete Mixtures.
Chapter 15 recommends improved testing methods that closely replicate the real world. All of this helps industry professionals to choose the proper product for their application. With the assistance of ACI 212's new Chapter 15, Canadian engineers and architects can now agree that when protecting concrete from water not under pressure, a PRAN should be specified. In cases when one is building a watertight structure, a PRAH is what is needed.
Kevin Yuers is a veteran of the construction industry, having spent many years running his own contracting company before joining Kryton International in 1994. He is the vice-president responsible for product development and technical services at the crystalline concrete waterproofing company. Yuers is an active member of several industry and business associations and has travelled extensively throughout the world. He has written numerous articles and is the named inventor on patents related to the concrete industry. Yuers can be contacted at (800) 267-8280.

Control the content you see on ConstructionCanada.net!
Learn More.