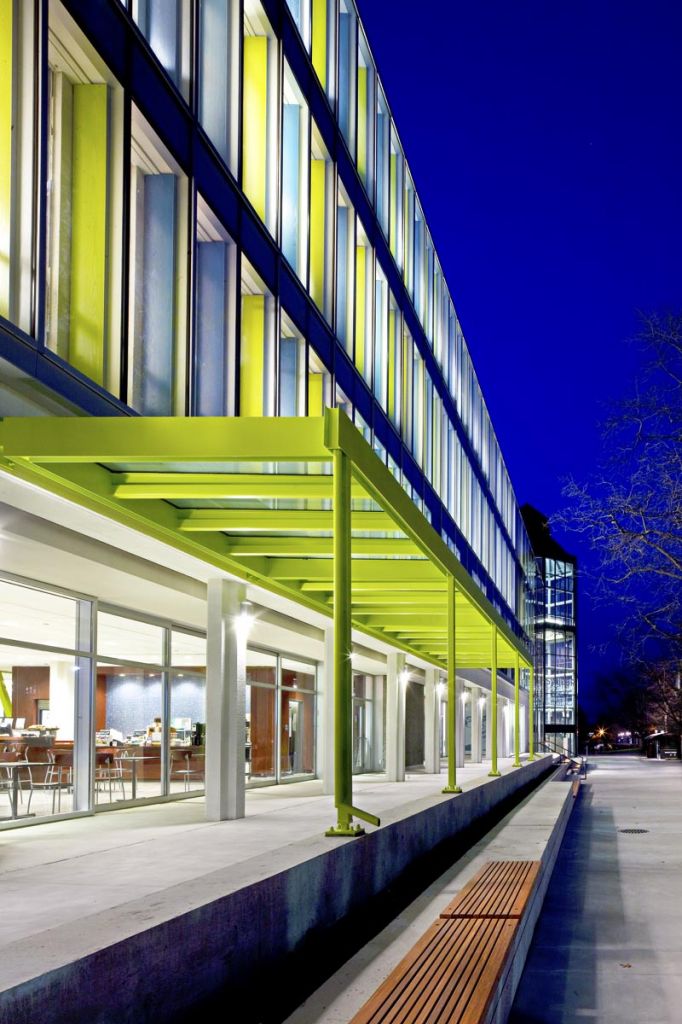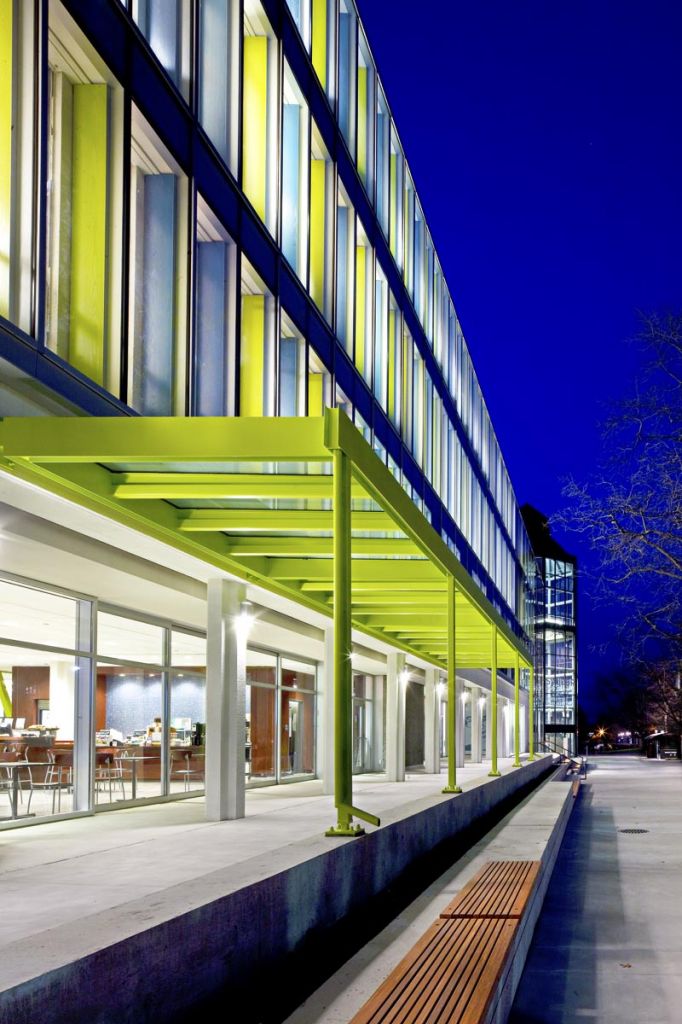 An expansive atrium is the focal point of the University of British Columbia's (UBC's) redeveloped business school, which unifies three interconnected buildings.
Acton Ostry Architects designed the redevelopment, revitalization, and expansion of the Sauder School of Business, which includes original structures built in 1965, 1975, and 1995.
The state-of-the art, $70-million project includes:
20,067 m2 (216,000 sf) of renewed space;
a 5109-m2 (55,00- sf) five-storey addition with sky-lit atrium; and
608-m2 (6500-sf) conference centre penthouse built atop the school's existing administrative tower.
Last year's completion of the project's third phase marked the culmination of long-term investment and engagement involving students, faculty, staff, alumni, business community, the university, and provincial government.
The project reflects the school's mandate of innovative learning through the inclusion of various high-tech teaching and learning spaces, including:
flat and tiered classrooms;
breakout rooms;
meeting rooms;
a trading lab;
learning commons;
graduate student study areas; and
student lounges.
Transparency and 'lightness' experienced throughout the building reaches its pinnacle in the new floor-to-ceiling glazed conference centre penthouse. The penthouse is clad with a varying pattern of clear, translucent, and opaque glass panels.
The atrium, which linked the new addition to the existing building during Phase One to create a focal circulation spine at the heart of the school, was further transformed through the installation of a towering, 12-m (40-ft) high, illuminated portrait of the school's namesake, Bill Sauder. Additionally, a 'Builder's Wall,' consisting of an array of portraits of past and present faculty leaders and innovators, has been fixed to the original classroom block façade of the Henry Angus building in the atrium.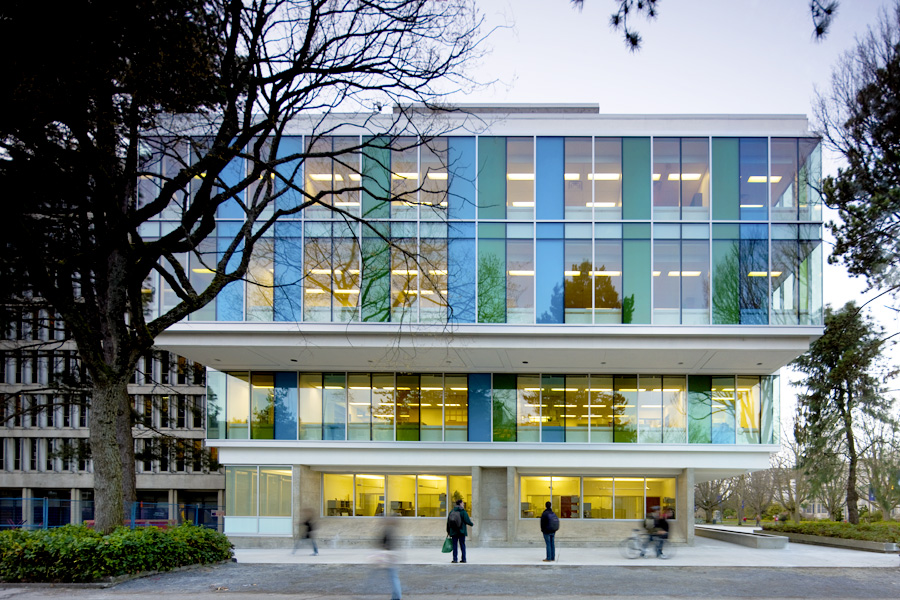 To achieve a bold identity for the Sauder School of Business, the old impassive concrete building was wrapped with a new glazed façade that references digital commerce and business information was inspired by the pattern of barcode.
"The rhythm of the existing building structure reminded us of a barcode," explained Russell Acton, principal, with the architects. "We used a barcode pattern to spell out 'Sauder School of Business' as a base from which to create a new identity."
This esthetic was achieved with an oscillating pattern of stained blue and green wood panels and coloured glass applied to the precast concrete structure of the original building.
The new facility is also animated by means of a wayfinding and donor recognition program integrated within the interior. Images of international stock exchanges, forest scenes, and large-scale portraits of local business magnates have been embedded on large, glass walls throughout the building.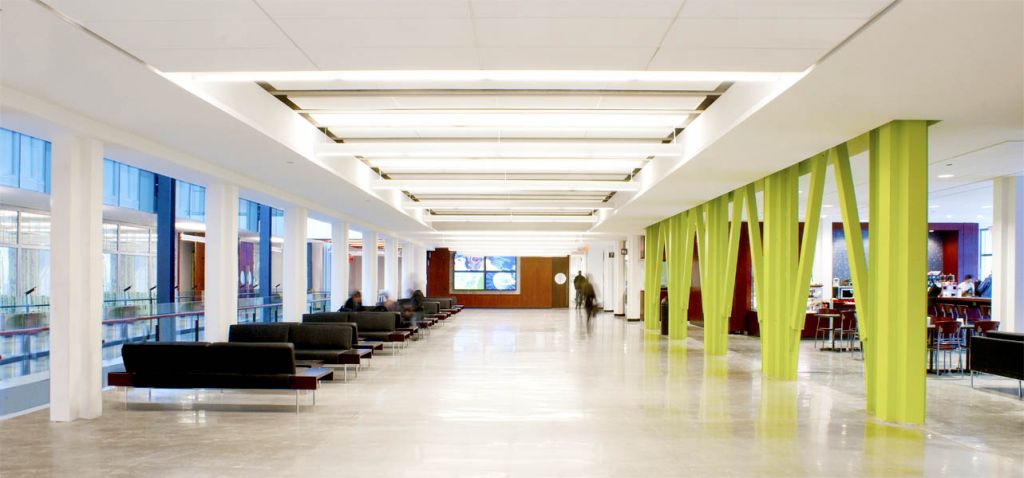 "Preparing students for success after graduation requires learning environments custom-built for the constantly evolving skills needed in the world of business," said the former Sauder School of Business' dean, Daniel Muzyka. "Our new teaching spaces help students and faculty embrace participatory and collaborative learning models, reinforcing the kind of dynamic interchange of ideas that drive the most effective organizations."
Phase Four, scheduled for completion next year, is comprised of a suite of studio-type classrooms addressing a growing demand for collaborative learning environments. A design accommodating both lecture- and studio-based learning, feature a series of perimeter docks equipped with back-lit glass boards, flat-panel displays, and overhead projectors. Each of the docks can interconnect to provide flexible classroom sizes.
To date, the project has been recognized with a 2011 Lieutenant Governor of British Columbia Award in Architecture, 2010 Canadian Interiors Best of Canada Award, 2010 Sustainable Architecture & Building Canadian Green Building Award, and a 2010 Vancouver Regional Construction Association Award of Excellence.

Control the content you see on ConstructionCanada.net!
Learn More.