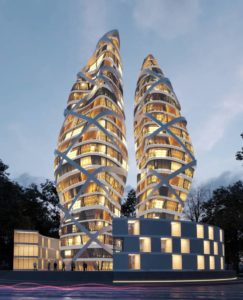 When designing the Towers of Love, Toronto-based architect Alva Roy aimed to evoke an emotional response from onlookers. The 22- and 24-storey towers stand alone, yet together. Each structure is contoured in such a way as to draw the eye to its mate. The result, Roy says, is a testament to the depths of romantic love and union.
"Love is when two entities join to become one," says Roy. "I went to meticulous care to make sure that this design would be emblematic of this inextricable bond that is the very essence of love."
With an end-date of April 2022, plans for the multi-use facility include hotel, restaurant, and office space in one building, while the other will house commercial and residential units. The proposed development will be built in the Toronto area.
"Architecture is not just a wall, a floor and a ceiling to house ourselves," says Roy. "It is a place where we connect to the deepest emotions of the human heart. Where we invoke peace and calm—and where we summon the richest parts of our being and existence."