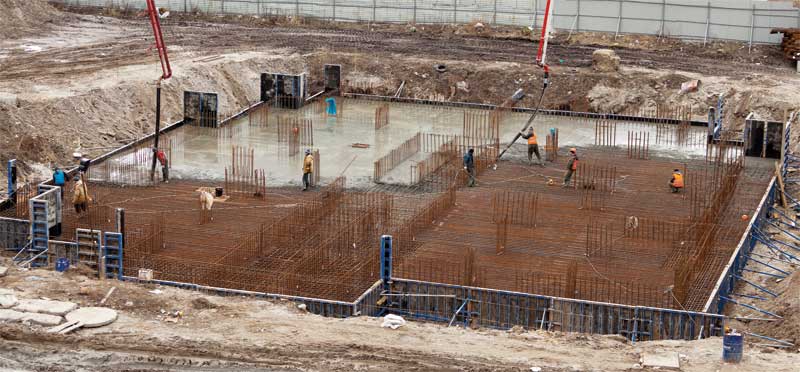 By Alireza Biparva, B.Sc., M.A.Sc.
Apart from mechanical damage, water ingress is the most detrimental force to concrete structures. Buildings the world over are failing far earlier than construction designers had planned. In some cases, this results in high maintenance costs unforeseen by building owners. In more extreme—but not altogether uncommon—situations, building failure results in the need for a complete replacement of the structure. This is very expensive, and can negatively affect the lives of a population, given concrete is the backbone of infrastructure construction.
More often than not, attention to detail throughout the construction process is vital to building a durable structure. This includes providing a consistent waterproofing system from beginning to end to create a completely watertight building. (This principle is explained in greater detail in the second edition of The Construction Waterproofing Handbook by Michael T. Kubal, which was published in 2008.)
According to Michael T. Kubal's 90 per cent/one per cent principle from the Construction Waterproofing Handbook, "90 per cent of all water intrusion problems occur within one per cent of the total building or structure exterior surface."
In other words, most water infiltration happens not within the scope of the main waterproofing solution provided, but via small, overlooked details. For instance, a pipe-penetration or tie-hole could be a pathway for water and waterborne chemicals if not taken into account. A tie-hole comprises an extremely small percentage of the structure, but nonetheless could leave a building at risk.
Kubal was also responsible for developing another important waterproofing concept: the 99 per cent principle.  This suggests almost all leaks are attributable to causes other than material or system failures—meaning only one per cent of envelope leaks can accurately be attributed to the materials or systems failing. Instead, this usually occurs because of:
installation errors;
specification of the wrong system;
use of incorrect or incompatible materials
(or amounts); or
inadequate preparation work.
Kubal's two principles suggest minute aspects of complete concrete waterproofing are the most likely gateways for water intrusion.

Control the content you see on ConstructionCanada.net!
Learn More.