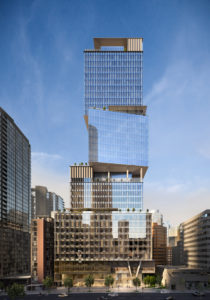 The Stack, set to be the tallest office tower in Vancouver, has broken ground. The AAA class 50,168-m2 (540,000-sf) development will stand at 162 m (530 ft).
Designed by James Cheng Architects and Adamson Associates Architects, the Stack features a climbing, twisting box design. To incorporate wellness and community, the office features six outdoor decks, a pocket park, and a rooftop offering unobstructed panoramic views of the city and mountains. The ability to open windows in the lowest box allows for fresh air and creates a connection with the outdoors.
To encourage cycling to work and employee wellness, the Stack also features fitness and cycling facilities, including 250 bike stalls at the ground level. The building also has a dedicated drop-off zone with porte-cochère to facilitate passenger delivery via potential ride-sharing providers and, in the future, autonomous vehicles.
The development is targeting Leadership in Energy and Environmental Design (LEED) Platinum and hopes to be the country's first net-zero carbon tower.
The Stack is scheduled for completion in 2022.