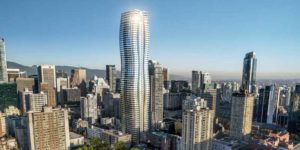 Canadian developer Brivia Group has selected downtown Vancouver as the location for its newest project, a 60-storey Passive House residential development.
CURV is designed to be one of the tallest modern, low-carbon, and energy-efficient buildings to achieve this standard.
"We hope it will quickly become a blueprint for future towers around the world as cities push for a more sustainable future. The idea of a super-tall Passive House tower is especially fitting in a city with such high environmental aspirations. CURV will be an eco-friendly landmark, contributing to Vancouver's iconic skyline," said Kheng Ly, president and CEO of Brivia Group.
Brivia Group collaborated on the building's design with British architect Tom Wright of WKK Architects and interior designer Andres Escobar of New York-based Lemay + Escobar. Known for designing the Burj Al Arab in Dubai, this will be Wright's first building in North America.
"It was a pleasure collaborating with Brivia Group to deliver on a building as important as CURV that will raise the bar for developers," said Wright.