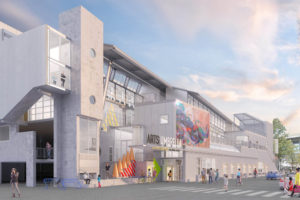 Arts Umbrella, a nonprofit centre in Granville Island, Vancouver, has opened its new arts education facility.
The 4645-m2 (50,000-sf) space more than triples the organization's current space, providing children and youth with expanded programming and studio spaces and, for the first time, welcoming the public to onsite performances and exhibitions presented by young people in art and design, dance, theatre, music, and film.
The initial building design was completed in 1995 by Patkau Architects, with the current repurposing led by Henriquez Partners Architects and consultants BTY Group (project management); ITC Construction Management Integral (mechanical); Glotman Simpson (structural); Nemetz (electrical); DWD (theatre design); and BKL (acoustical design).
The building will house six dance studios; four theatre, music, and film studios with specialized technical and audio equipment; 10 art and design studios, including state-of-the-art media labs, and a photography darkroom; a 132-seat theatre; a public exhibition space; and a workshop area for woodworking, stagecraft building, and general fabrication.
"Over the past few years, our staff's hard work, innovations, and programming requirements have steadily pushed against the boundaries of our current space," said Paul Larocque, president of Arts Umbrella. "Now, we have room to support and inspire more young people, proving that creativity really can be limitless."