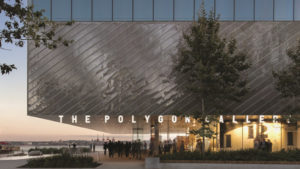 The Polygon Gallery, North Vancouver, B.C., designed by Patkau Architects, has won the American Institute of Architects' (AIA's) 2021 Architecture Award.
Ten projects were recognized in the 2021 Architecture Awards program which celebrates the best contemporary architecture and highlights the many ways buildings and spaces can improve lives. The nine-member jury selects submissions demonstrating design achievement, including a sense of place, purpose, history, and environmental sustainability.
This Polygon Gallery project is the rebirth of an independent photography and media institution that has been in North Vancouver's creative community for nearly 40 years. Built on a former brownfield, it heralds the renewal of the city's urban waterfront where infrastructure is reimagined and culture emerges from an industrial history.
The gallery, called Presentation House Gallery when it began in the 1970s, was initially located in a community center inside an early-1900s all-girls school. Its original facilities were already beyond restoration when it was housed there by the city. As the gallery rose in stature and mounted significant exhibitions, visions of its future grew but never took root. Despite evolving ideas for the gallery's future home, the idea of a space overlooking the water always remained.
The gallery launched an architectural competition following the hiring of director Reid Shier and the requisite housekeeping required to advance the project.
The new gallery's central mass floats above the ground plane, providing access to a new public space and views of Vancouver's skyline across the inlet. It is marked with a sawtooth profile clad in mirrored stainless-steel sitting beneath expanded aluminum decking. The façade's materials play off one another, lending a sense of mass and depth shifting with differing sunlight conditions and the evening atmosphere. The façade functions as the gallery's uniform voice and defines its place on the waterfront without contributing to any visual noise.
More studio than museum, the gallery's backbone does double duty, lifting the gallery up and providing an open space lit by diffuse northern light. Steel purlins hosting lighting, temporary partitions, and suspended works of art support the space. The gallery's upper level includes a flexible event space accommodating educational, outreach, and private events. Its southern wall is an operable glazed panorama overlooking the water.