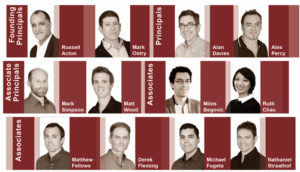 Vancouver-based design practice Acton Ostry Architects (AOA) has promoted Alan Davies and Alex Percy to principal, with Mark Simpson and Matt Wood as associate principal. Michael Fugeta and Matthew Fellows have been named new associate members of the leadership team.
"The new leadership structure marks the beginning of the next phase in the evolution and growth of AOA," said Russell Acton, founding principal.
Fugeta has been with the company since 2010. He was project lead for the Duke, an award-winning rental residential project completed in 2018 under the City of Vancouver Secured Market Rental Housing Policy. Fugeta continues to contribute his creativity and expertise to the realization of affordable rental housing projects in the city.
Fellows joined AOA in 2012. He is currently the project lead for the new Sir Sandford Fleming Elementary School and Child Care scheduled for completion in the fall. Fellows has an expertise with educational projects, previously overseeing the completion of Vancouver Talmud Torah, the city's largest Jewish elementary school.
"These talented individuals have honed design and leadership skills with AOA over many years and will guide the way forward for a new generation of talented architects," said Mark Ostry, founding principal.